22 Nov

Meet: Propello Life

Posted at 16:00h

in

Business

,

Columbus

,

columbus families

,

Community

,

eco-friendly

,

Education

,

exercise

,

Family

,

fitness

,

Heath

,

Local

,

local business

,

Local Family

,

Meet the Business

,

Natural

,

Retail

,

Sports

,

Story

,

Wellness

2 Comments

Meet Todd and Duke: they are the guys behind the one-of-a-kind handcrafted supplement company Propello Life.   Propello Life is a story of brotherhood and true compassion for living.

Propello Life has been in business for all of three months now and everything along the way they've taken in stride, like a true family does. Their kickoff event was at Sweat Local Columbus' first 5K and Fitness Expo event back in July.

But, their real journey began long ago, because they're brothers.  Two out of five brothers actually.  It was in their basement, where they would take turns spotting each other on the work-out bench getting ready for soccer and volleyball.  See, athleticism has always played a central role in their upbringing, and is still a vital component in their lives today.
"We've always been close. Our personalities are different, so we really balance each other out. And we've always been venturous together. One time we even bought a house and flipped it."
Health and fitness were topics both Duke and Todd were interested in– so much so, they both pursued careers in the field.  Duke got into sports nutrition and Todd got into natural food operations and Crossfit.  Todd even moved to Maine and Colorado for some time, but they kept in touch.  It was the idea to create Propello Life that brought Todd and his family back to Columbus.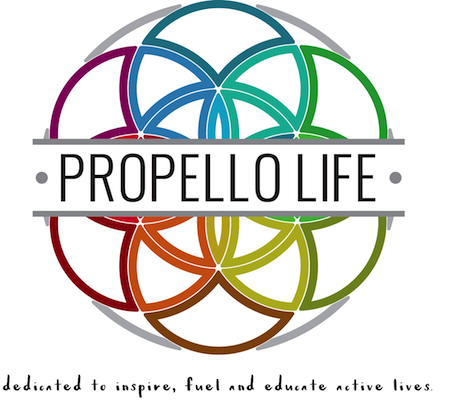 Duke wasn't thrilled with what other supplement companies were providing, and he wanted to provide something better. Duke realized what he wanted to do, and felt he would never be able to do it–working for someone else.  So, he called up his brother Todd and they both started planning.  "We jumped– it was scary. Ultimately though, it was a combination of culminating events that bubbled to the surface."
"We were also influenced by our grandmother who lived to be 92. She knew what healthy eating was before it was given a name by scientists and experts. She ate vegetables galore and grapefruit for breakfast every morning."
Their logo is composed of 7 different colored overlapping circles to illustrate key aspects of life—Movement, Nourishment, Passion, Rejuvenation, Love, Mind, and Spirit. The root of the word propello–propel means to motivate.  "You can easily translate our name to motivated life."  It's part of their mission to really educate individuals on these elements of life.
"We have worked for politically charged organizations where profits and corporate climbing were priority one, to companies with amazing cultures with great work-life balance and social consciousness. These experiences have taught us what we wanted to create – an inspired company focused on wellness, community, and its employees."
Propello Life designs and crafts all ingredients together to create special supplemental formulas for works-outs and rejuvenation.  They've created unique whey protein powders, and even vegan protein! Together they believe that supplements are really secondary.  "They don't replace anything.  They should be added into your lifestyle, but not used as a substitute."  The supplements they create are made up of exactly what you need. There is absolutely nothing artificial in them and they are non-GMO products. Also, they fully disclose and are transparent and honest about what ingredients they use. 
"We don't 'fairy dust' any of our products.  Some companies may put just enough of something to claim it's there, but we're not a proprietary blend. We're the real deal."
Todd and Duke have both worked really hard to set a good example for their children.  Yes, they are both dad's too.  That's yet another reason why they wanted to create something for their families that was meaningful.  "It's nice working with a brother, because we can really be able to say, "hey my kid is sick," or whatever it may be."
Creating Propello Life has given both of them the ability to not necessarily have balance in their work to family life ratio, but definitely flexibility.  Because us entrepreneurs know to well, that weekends are work days, and the lines certainly are blurred.  "But it's awesome," said Duke. "I'm happier, and the happiest I've been, but I'm also working harder than I ever have before."
"What are you living for? I'm living for my family and loved ones.  So, define what you are living for and go live for it."  
That's really the motto they live by. Live for it Columbus! And, if you're in the market for some protein powder, or supplements definitely check out Propello Life before your next work-out.