11 Feb

Meet: Point to Point Acupuncture

Posted at 09:06h

in

Activities

,

Alternative

,

Business

,

Columbus

,

Community

,

death

,

healing

,

health

,

Heath

,

holistic

,

Local

,

local business

,

meaningful

,

Meet the Business

,

Natural

,

Organization

,

Practice

,

spiritual

,

Wellness

0 Comments
PART I: Meet Jill
"I think I have a large capacity for joy that's developed over the years. In large part, I attribute that to the hardships that I've had to face, including the deaths of my husband and my mother in succession. My container for holding joy and pain is very large and I think that directly influences my work with patients in the acupuncture clinic today. After my husband's death in December 2007, I was overwhelmed by grief and developed a chronic ache in my back.
A friend suggested acupuncture and I began to get regular treatments. My back pain cleared up rather quickly. But anyone who's been devastated by a sudden death knows that grieving is a process – both of shock and overwhelming sadness. Really, it's a life long process.
My acupuncturist and I developed a very strong bond during the hardest part of my grieving process. And, I came out of it realizing that Chinese Medicine – acupuncture – treats way more than just physical complaints; it treats the spirit.
When I moved from Bloomington, Indiana to Ohio for family reasons, I decided to go to acupuncture school. Given my background in Social Work, I'm very into accessibility, community and economic justice. Community acupuncture is aligned with those values. In community-style clinics, we offer a sliding scale fee which makes this amazing modality accessible to people who may not otherwise be able to afford consistent treatments.
It's acupuncture for the masses, really.  And, the community that has formed at Point to Point Community Acupuncture is so strong. Family members come in together. Friends book appointments together and have "acu-dates." I know when my patients lose jobs, get jobs, when their dog dies, when their kid is in rehab, when they're getting married, divorced and everything in between. This kind of trust creates a very powerful community for people to tap into when they need a safe place to heal, come to terms with things, and reset themselves." ~Jill
@p2pcommunityacupuncture In community-style clinics, they typically offer a sliding scale fee of around $20-40 per visit which makes acupuncture more accessible to people who may not otherwise be able to afford consistent treatments. "It's acupuncture for the masses," said Jill @travelingthelines But, why Point to Point?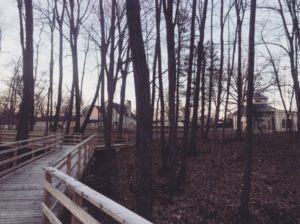 "The name Point to Point has many metaphorical connections. Obviously, there are acupuncture "points," so there's that reference. But, it also references a person being able to move from one point to another; whether it's physical, emotional or spiritual healing that must take place in this point in time before moving to the next point in their life. I like to also think of it as each of us who are involved with Point to Point Community Acupuncture being a part of a matrix of points –where my own healing is a point of light for your healing. Maybe me feeling better, stronger, and more balanced will inspire you to try acupuncture. And then, your healing inspires someone else. And on it goes…" ~Jill
Point to Point Community Acupuncture is located within the All Life Center for Integrative Well Being (ALC). The ALC is a member-based co-op of practitioners in and around the Columbus region.
Part III: Acupuncture
Chinese medicine and more specifically, acupuncture has been used for millennia to treat all sorts of problems and issues.
"I view acupuncture as an organic, healing art form – it's constantly growing and changing based on the time in which it's practiced, but has these very deep roots in traditional experience and wisdom," Acupuncturist Jill Farrell states.
"Acupuncture is aimed at creating harmony and balance in the energetics of the body. And, by association, the physiology of the body. It is relatively painless and extremely safe, with needles placed quickly into the body; Acupuncture should have no lingering pain.  But, people do feel a variety of sensations and experiences during their treatment: sometimes heaviness, sometimes lightness, sometimes migrating sensations that are hard to describe. All of that is normal and welcomed during an acupuncture session.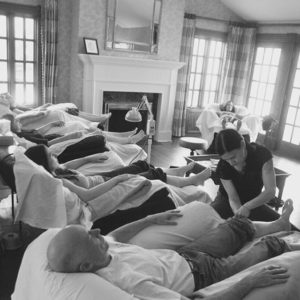 The number of needles depends on the practitioner's style and methods as well as the issues that the patient wants to work on. Acupuncture in the West is commonly thought to treat pain of all kinds – and yet what acupuncture can treat goes way beyond pain syndromes. The World Health Organization lists dozens of recognized benefits of acupuncture for physical signs and symptoms – if you can experience it, on some level acupuncture can help; whether it's reducing your stress level, reducing your pain levels, increasing your sleep, or increasing your acceptance of what's going on and making it more bearable.
Sometimes people just need to check out, relax and feel like they're being heard, respected and taken care of. The relationship between the stress we experience in this time and how that affects our emotional state and ultimately our bodies and spirit, is one of the areas that I feel acupuncture has got the market cornered."
PART IV: Cindy's Experience
Cindy is an avid supporter of Jill and Point to Point Community Acupuncture
"While I'm active, healthy and fit, I've had knee, hip and lower spine issues that I've tried to resolve through physical therapy and chiropractic measures. Each one gave me temporary relief, but I thought I'd try acupuncture to see if there might be a more permanent solution and a medication-free way to eliminate pain. I also liked the idea of the sliding-scale pricing at Point to Point.
Before the first session, Jill talked to me about all of the things I listed on the questionnaire, she explained how acupuncture works, and the meaning of Community Acupuncture. Then we went into a beautiful room where Jill showed me how to settle into the comfortable chairs. When I was ready, Jill placed her hands on my head and forehead (very calming and peaceful!) Then, she started with the needles.
I can sometimes feel the needle going in. Sometimes I don't.   The sensation is just a prick of the needle. Once it's in, I don't feel it. When she finished, I fell into a wonderful nap for about 45 minutes (Jill calls it an Acu-Nap!). "
"My hip and knee pain subsided in 2 sessions and I was totally pain-free in 4 sessions. I still go to Jill for "maintenance." The Acu-Nap is meditational for me. And when I've had allergies or a cold, or a sore arm, acupuncture has given me relief." ~Cindy