19 Sep

Meet: Pam, Brooke, and Dyslexia

Posted at 06:25h

in

Childhood

,

columbus families

,

Family

,

learning disability

,

Local

,

Local Family

,

Meet the Family

,

Mental Health

,

Organization

,

parenthood

,

reflection

,

Story

,

Things that Matter

,

Topics that Matter

,

writing

9 Comments
KIOTE
How do you spell coyote?   Well, one day I needed to remind myself about a rare neighborhood coyote sighting.   I wanted to write coyote on my list of things to talk to my husband about. My dyslexic daughter and I debated for a few minutes about how to spell the word. I should've listened her; she knew it started with a C. I came up with kiote… it looked good enough to me for the time being!   When my spelling-able husband came home he was amused at the heroic effort of my thoughtful dyslexic spelling. My husband gently corrected my spelling and asked me why there was a coyote in our yard. Sometimes my dyslexia makes it too difficult to check spelling because I spell so badly.
When my now 14-year-old daughter was very young I was concerned she had been gifted with my genetic disability, dyslexia.   So when school started for her, I wanted help for her that would be sensitive and understanding to the challenges of dyslexia.   I understood what it was like as a child to have a learning disability.   I was labeled lazy, stupid, slow, distracted and day dreamy.
I was told to try harder every day; little did my teachers know over 45 years ago, I was dyslexic/ADHD and trying as hard as I could.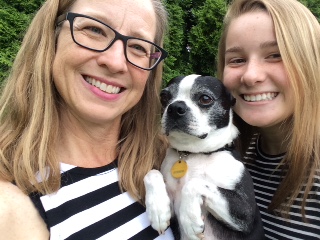 When I was in grade school I would always see my peers achieving academic milestones as I was left behind. My high school advisor said I shouldn't attend college—I was lucky to be accepted and I went anyway.   I didn't major in the field that I desired, because I knew I couldn't pass the required math classes, I also have dyscalculia.
After three colleges in six years, a therapist suggested that I was gifted with learning differences and anxiety, not stupidity.
That revelation was a huge relief and the last two quarters of my college career my professors, who were not shocked about my disabilities, made sure to help me with accommodations. I wanted better for Brooke – less tears, doubt and hope.
When Brooke started school I shared my suspicions about her dyslexia to her teachers. Unfortunately, she did not receive the appropriate reading intervention, Orton-Gillingham, until halfway through second grade. I was not prepared for how hard it was to get appropriate help, it was overwhelming. Through hard work on Brooke's behalf, research, and people finally working together she is a freshmen at Upper Arlington High School. This only happened when the people who had the power– implemented the appropriate support.   During this time I encouraged other families to ask for appropriate services for their children that were also struggling.
Most importantly, identifying children with dyslexia as soon as possible can save them a lifetime of self-doubt and failure.
Sometimes dyslexia is something to cry and be mad about, a lot of times something to laugh about, but you must always persevere. It's exhausting being dyslexic and you never grow out of it. Brooke best dyslexicly described being exhausted as dis-hausted! When meeting with dyslexic families I most always say I'm sorry for your diagnosis but congratulations! Dyslexics think out-side-of-the-box, are highly creative, smart and funny!
Through these events and challenges I have been inspired to become a board member for the International Dyslexia Association of Central Ohio. I also support a group called Upper Arlington Kids Identified With Dyslexia (UA Kid). Brooke has found through the national organization Eye to Eye, dedicated to mentoring those who think and learn differently, a way to help advocate for herself in school and life. She enjoys sharing how to do advocacy plans with other kids with Learning Differences.
If you suspect your child has dyslexia please contact the International Dyslexia Association or the Central Ohio Branch for more information.