17 May

Meet: Megan Wright

Posted at 20:51h

in

caregiving

,

Childhood

,

Columbus

,

columbus families

,

Emotions

,

Family

,

healing

,

Heath

,

Local Family

,

love

,

meaningful

,

motherhood

,

parenthood

,

Photography

,

reflection

,

Story

2 Comments
Monday, March 16th, 2015.
I was a day shy of 19 weeks pregnant. I had finally started to accept that I was going to be a single mother. I was 28 years old and I had a decent job, after all. But I admit that in my heart of hearts, I still didn't love the idea of walking into that ultrasound alone. This was going to be the big one; the one where the doctor tells you that you're having a perfect little baby boy and sets you on track to revel in the bliss of impending motherhood for the next 20 weeks to come.
Well, that didn't happen. My doctor furrowed her brow as she fell silent, like she was searching for something that was just out of her reach.
"Is everything okay?" I asked.
"I'm just having a little trouble looking at the baby's head. I'm going to grab my ultrasound tech and see if she can help me. I'll be right back."
My doctor returned to the room, ultrasound tech by her side, and in an instant my world was turned upside down.
"Do you even see a cerebellum?"
"No. And this looks like it's dangling."
"How about the umbilical cord? Does something look off to you?"
"Yes, I can only see two vessels."
Within seconds, the tech ushered herself out of the room, and the lights were flipped on.
"What does all of this mean?" I asked, confused and uneasy.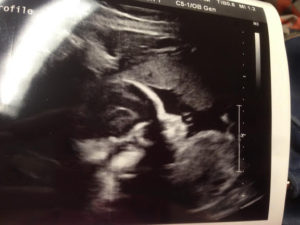 "I'm concerned that the baby's brain hasn't developed," my doctor said. "I'm referring you to a high-risk specialist at Riverside. They'll call you to set up an appointment. I'm so sorry."
I began to cry. I couldn't believe this was happening to me. To MY baby. This was supposed to be one of the happiest days of my life. In a whirlwind rush, I walked out of the office, tears streaming down my cheeks. Dazed and confused.
I sped in my car to my parents' house, desperate to find some comfort. My mom is a nurse, so she tried to help me make some sense of the situation. She called my doctor. My doctor said that my baby probably wouldn't survive. If I even carried him to term, he would probably die in my arms shortly after birth. "How was this even possible?" I wondered. I had felt this baby kicking for weeks now. He was very much alive. It didn't make sense to me.
I got a call from Riverside. The high risk doctor would see me the next afternoon at
2:00
. I spent the next 24 hours in utter agony.
Why me? Why MY baby?
I begged and pleaded with God, with the Universe, with the walls.
Tuesday, March 17th.
I hadn't eaten anything. I spent the night vomiting and crying. On the way to the high-risk appointment, the rain began to dissipate, and the sun broke through the dark clouds. For a moment I felt peace.
The appointment began with a detailed scan of the baby's anatomy. The tech asked me if I understood what was going on. I told her that I knew it was all very bad. I asked her not to sugar coat anything. She promised she wouldn't. She asked me what I had been told the day before. I explained what my doctor said, in detail. She said that she didn't see some of those bad things that I had been told. But she did see some other things. She asked me if anyone had told me about Spina Bifida.
"Spina bifida?" I asked. "No, nobody mentioned that. What is that anyway? I know it's something to do with the spine, but I thought my baby's spine looked perfect."
Just then, the doctor came in. He introduced himself. Doctor Fox. I thought he had a kind face. But what I didn't know was that he had the heart of an angel too. He began to scan my belly again, confirming the details that the tech had given. They still couldn't see the cerebellum, but that didn't mean it wasn't there. He showed me how the baby's forehead was shaped like a lemon, and how his brain was curved like a banana. And then he zoomed in on my baby's spine. And there it was, like a beacon beaming in the night.
Spina Bifida. 
A birth defect. The baby's spine doesn't fuse properly within the first 28 days of gestation. My baby had a gaping hole in his back, down near his tailbone, starting on the L4 vertebra and extending through the sacrum. Spina bifida was the reason that my baby's brain looked different on the screen; his cerebellum was being pulled down into the top of his spinal column, and there was extra fluid in his head.
The ultrasound ended, and I was still a little confused. But I wasn't devastated anymore. I felt…quiet. My mind was quiet. My heart was quiet.  Dr. Fox brought me into his office to talk. And in an instant, he hit me with something I wasn't expecting – hope.
He explained how people with spina bifida can live happy, fulfilling lives. They might be affected by paralysis, and they may have brain surgeries, trouble with their bladder and bowel function, and learning disabilities. But my baby wasn't going to die. He was very much alive indeed. 
He gave me some pamphlets about fetal surgery to look over, and said he would put in a referral to the local Children's hospital so that I could come in and learn more about what would happen next if I didn't want to have the fetal surgery.
I went home to process the events of the previous 24 hours.
I researched everything I could possibly find about spina bifida and fetal surgery. I found a support group on Facebook. I wrote a post introducing myself and explaining what I had just been through. The group welcomed me with open arms, showing me photos of their beautiful babies who also had spina bifida, and sharing their fetal surgery stories. One person asked me if I knew that I could have the surgery in Cincinnati. I made a mental note, and decided I would look into it.
I took a few days off of work to recover. Although I was feeling better, my body was tired. My mind was tired. And my heart was tired too.
If I didn't do the fetal surgery, my baby would have his corrective surgery shortly after birth. There would be NICU time. There could be additional surgeries. He might be paralyzed from the waist down. I saw more specialists, did more research, and toured the local Children's NICU. But I couldn't get that idea of the fetal surgery out of my mind.
On a Monday morning in late March, I decided to make the call to Cincinnati Children's to see what this fetal surgery business was all about. I remember hanging up the phone, impressed by the nurse coordinator's knowledge and kindness. I learned that I would have to go through their evaluation process to see if my baby and I would be candidates for the surgery. Not everyone qualifies.
Maybe we wouldn't. But I wanted to try. It would be expensive. It would be painful. It would be emotionally taxing. I would have to move to Cincinnati for 3-5 months, and I would have to be off work. Still, I wanted to try. I wanted to be able to offer this baby boy the best life I possibly could.
Wednesday, April 8th.
I traveled to Cincinnati with my mom. I underwent a slew of testing over the next couple of days that included a 3-hour fetal MRI, an intense ultrasound, blood work, and meeting after meeting with genetic counselors, social workers, neonatologists, and neurosurgeons. My baby and I were officially approved to have the surgery on Thursday afternoon.
I was given statistics. My baby could die. I could die too. He could be born prematurely, and then we would have a whole new onslaught of challenges. My goals would be to make it to 30 weeks. Then to 34. And ultimately to 37. But it could be the best decision for him. He could avoid additional brain surgeries. He might be able to walk one day. I know now that walking isn't everything; it's just something you don't think of when you're having a baby.
Only 30 other mommy and baby pairs had undergone this surgery in Cincinnati before us.
I pulled my mom into the hallway, shed a few tears, and decided that I wanted to do the surgery. I wanted to try everything in my power to help my sweet baby boy. We went back in, I confirmed my decision, and we set a date. April 22nd. I had picked out a name – Nico. Short for Nicolas.
Wednesday, April 22nd. Morning
I woke up feeling nervous. I did a lot of praying. My parents drove me from my hotel to the hospital. We were all nervous. I signed some final consent paperwork, had more blood drawn, and went into pre-op. A team of almost a dozen and a half doctors and nurses prepared me for surgery, and I began to cry. I was scared. Scared to lose my life, but even more scared to lose Nico.
I suddenly wanted to jump off the table and run away. But a moment of peace washed over me when the neurosurgeon came to talk to me. He would be the surgeon who would do my baby's portion of the operation. He held my hand and told me that he would take care of my little boy. I cried a little more. But I could tell that he was special. My epidural was placed, my IV was started, and I fell asleep. It was all out of my hands now.
Wednesday afternoon.
I remember waking up from anesthesia. I couldn't feel my legs, but that was normal since I had an epidural in. The magnesium drip in my IV made me groggy. I was thirsty. I saw my nurses. I asked, "Is my baby alive?" and they resounded with a "Yes! You both did great! I was content, and I was at peace.
Over the next week, I would recover in the hospital. It was hard. I was in a lot of pain. I was scared that Nico would come early. He didn't. He kicked butt, in fact. He passed all of his tests with flying colors. On the seventh day, I was released. I would spend the next 3 months on modified bed rest at the Ronald McDonald House in Cincy, being monitored bi-weekly, and processing my pain and my feelings.
It wasn't an easy 3 months of bed rest, but it was fairly uneventful. I felt grateful for the opportunity to undergo fetal surgery, but I struggled to understand the trauma that I had experienced thus far. Each week that I stayed pregnant felt like a miracle; a victory. And in July, I made it.
On July 21st, 2015
I gave birth to a beautiful baby boy. He was tiny, but he was strong. He spent 10 days in the NICU for evaluation and testing, and he blew everyone out of the water with his determination. He passed all of his tests, and he kicked his little legs harder than I ever thought he would. He's now 21 months old, and he's been kicking ever since.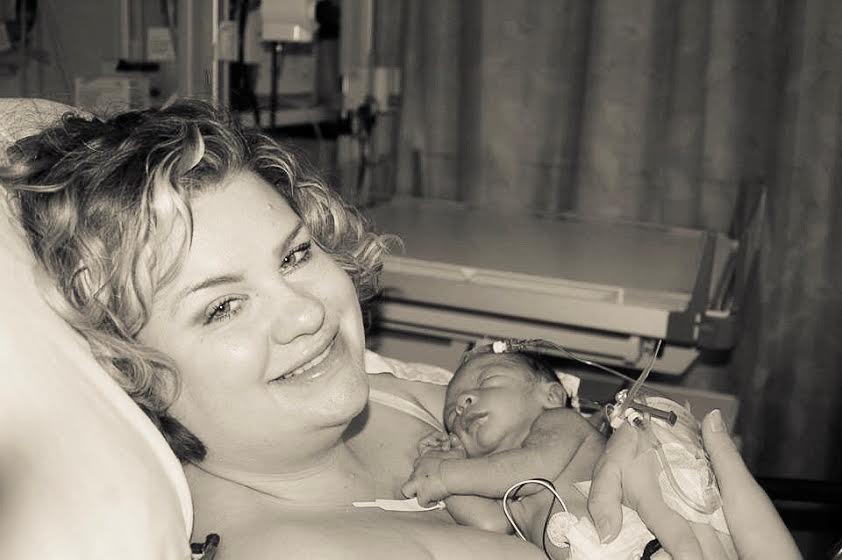 The fetal surgery turned out to be a huge blessing for us. Nico's brain has remained stable and (fingers crossed), he has avoided additional surgeries. He has minor health challenges behind the scenes, but he's a happy little boy and life is pretty "normal," given the circumstances. I can honestly say that I never could have imagined that he would be a typical toddler in almost every way – that he would be a terrible sleeper and have an attitude and a determination that could rival anybody's.
No, he doesn't walk yet, but I believe he will one day. And like I said before, walking isn't everything. But regardless, I wouldn't even be able to have the hope that I have today for my beautiful Nico, without the option of fetal surgery. We were both left with scars on our bodies and scars that will forever be written on our souls. When I look at these scars, not only am I reminded of the sacrifice that I made for my little boy, but I'm reminded of just how blessed I am to have him.
Thank you for reading,
Megan Wright