24 Nov

Meet: Fleurish Home

Posted at 08:36h

in

Activities

,

art

,

Business

,

Columbus

,

Community

,

Crafts

,

design

,

handmade

,

healing

,

homemade

,

Local

,

local business

,

Meet the Business

,

Story

,

Things to do

0 Comments

Fleurish Home is an ideal store for any creative enthusiast.  It's a store dedicated to all things "home"–entertaining, painting, decorating, etc.  It's filled with endless DIY project ideas, because when it comes to Annie Sloan's Chalk Paint®, anything is possible. And, that's what sets Fleurish Home apart from any other place–they are one of the very few retailers in America that actually sell Annie's paint.
Debra is the owner of Fleurish Home. After studying fashion in college, Debra started her retail career in visual merchandising and through that discovered faux finishing.  Always wanting to do something creative in the arts, this became her passion and after several years in the industry she decided to start teaching others the joy of creating for themselves through wall and furniture finishes.  It was here she was introduced to a brand new kind of paint called Chalk Paint® by a student of hers.
The paint was invented by Annie Sloan, someone Debra knew about from having studied the many books Annie had authored about decorative finishing.  The paint turned out to be a "game changer" for her.  You'd be surprised to hear Debra say that even though she was a professional decorative finisher, she used to hate to paint until Annie's paint came along!
"EVERYTHING I KNEW ABOUT PAINTING, I HAD TO THROW OUT THE WINDOW.  I HATED ALL THE PREP WORK ASSOCIATED WITH REGULAR PAINT AND HAD LITTLE

PATIENCE

.  BY THE TIME I WAS DONE WITH THE PREP WORK–I WAS BORED!"
"BUT PAINTING WITH CHALK PAINT® WAS VERY FREEING.  I REALIZED CHALK PAINT® WAS EASIER, WORKED BETTER, AND WAS JUST EASIER TO DO, AND ALSO EASIER TO FIX MISTAKES."
Debra knew how many other people would be able to fall in love with painting if they used this paint, so after realizing there were no places in the Midwest carrying Chalk Paint® she became a stockist in the early spring of 2011.
As demand for the paint continued to grow she and her husband decided to open a full retail store together in 2013 and Fleurish Home was born.  Not only does Fleurish Home carry all of Annie's fabulous paints and waxes, but just about everything else you need to complete your project from cleaners and brushes to stencils, metallic accents and furniture knobs.
They also have home accessories, furniture, decor, faux botanicals, and tons of amazing gifts!  Because of the paint and the store, not only has she met Annie Sloan on several occasions, she's even gotten to meet Chip and Joanna Gaines and the Property Brothers! How cool is that though?
The paint is what got the shop started though and remains the core of the business and Debra is probably one of the most knowledgeable professionals on using Chalk Paint® that you could meet.
Here are some basic facts I learned from one of Debra's fabulous workshops on Chalk Paint®. Yes, Fleurish Home offers amazing workshops. Check them out by clicking here.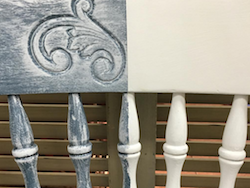 You can use Chalk Paint® to paint most anything—brick, concrete, brass, tile, furniture, etc. You name it.
Chalk Paint® has a dry time of 15 minutes!
No prep work. That's right say goodbye to sanding and priming–because you don't have to do those steps with this paint.
Chalk Paint® is a mineral paint, so it's very breathable.
Use soap & water to clean. Easy peasy!

You can use different waxe

s to create different finishes and styles.  And, as Debra says, "Wax is the best finish you can get."
Annie Sloan's Chalk Paint® was actually born with a chemist.  And no, there is no chalk in the paint whatsoever.  That being said, the difference from 'regular paint' is that there is no latex or plastic to it.  So, Chalk Paint® got its name from the look and feel of the paint, not by the ingredients.
For more information on the Chalk Paint® click here.
"EVERYONE HAS A TALENT INSIDE.  ANNIE SLOAN'S PRODUCT CAN CHANGE LIVES. IT'S HELPED

PEOPLE RECOVERING 

FROM CANCER AND DRUG ADDICTION.  IT'S TRULY MORE THAN PAINT, BECAUSE IT IS NO STRESS, TOTALLY FREEING, AND HONESTLY FUN AND THERAPEUTIC.

 

AND, WHEN I DO A PIECE, I

LIKE TO CREATE A STORY."

What story will you tell with Annie's paint?
Fleurish Home is located at 2125 W 5th Ave. 614-674-6251. They are open Tues-Fri 10-6 and Sat 10-4