25 Oct

Meet: Catie from Columbus Birth & Parenting

Posted at 10:28h

in

Business

,

caregiving

,

Childhood

,

Columbus

,

columbus families

,

Education

,

Family

,

healing

,

Heath

,

Local

,

local business

,

Meet the Business

,

Meet the Family

,

Mental Health

,

motherhood

,

Organization

,

parenthood

,

reflection

,

Responsibility

,

Story

,

Things that Matter

,

Topics that Matter

,

Wellness

0 Comments

Catie Mehl is one of the owners of Columbus Birth & Parenting, a business dedicated to providing the utmost care, support, and guidance to families (and each individual within that family) through the journey of parenthood. For the month of November we are focusing on adoption. The process—the feelings—the different perspectives—and, of course, the stories.
Columbus Birth & Parenting (CBP) is one of our sponsors for the month, not only because they have a personal connection to the topic of adoption, but also because they're educational experts while providing non-judgmental support and concrete direction.

So, maybe you're expecting parents, or maybe you're an adoptee, either way Catie and Leah are there to help facilitate you through any (and all) emotions and hurdles that adoption can bring.
Working with the family unit and each individual within the family unit is a critical component.  We operate on two modes: individual mode (meeting and satisfying our own needs, desires, and feelings) and family mode: (meeting and adapting to the needs of others as part of a team).  When they look at each person and the family as a whole, in turn they're able to create better direction and guidance.
"There are lots of emotions involved when adopting, and all of those emotions also depend on the individual.  It's most important to have a safe person to share your feelings with, without feeling judged."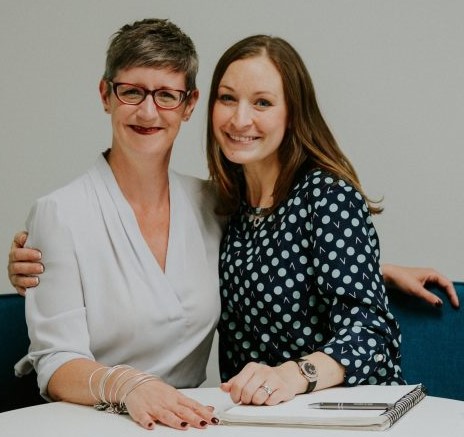 Adoption can be complicated. If you're an adoptive parent, there might be feelings of grief over the loss of not giving birth or coming to terms with the reason why adoption was chosen. For an adoptee there are often emotions surrounding biology and meeting someone who is related to you for the first time.   There are many aspects and layers involved.
"Adoption is complex.  It's like an onion, there are so many layers."
When looking closely at what it would mean to work with a family who is deciding to adopt, Catie explained that everything is case-by-case.  "We often give more reminders, and sometimes even permission, for the new parents to do nothing but love on their new baby. Sometimes families who have adopted a baby don't feel like they're allowed to slack on household responsibilities because they didn't push out a baby. But the postpartum period is about more than recovering from birth. It's about connecting with your baby and learning how to be a family."
Something that many people are not aware of is how prevalent new adoptive mothers experience symptoms of Depression and Anxiety, just like Postpartum Depression and Anxiety.
The challenges are similar with adoptive families–because parenting is not what they expected, or thought it would be.  "Sure, it might mean they're not as exhausted, but it doesn't mean they don't need time for recovery—the time is truly meant for connecting and bonding with the baby, and creating a new rhythm to life."
Catie opened up about her own adoptive journey.  "My birth mother was very young when she had me.  And, when her mom found out, she wanted my birth mother to abort me, but my mom wanted to give me a better life than what she was able to provide."
Catie's birth mother didn't "give her up" for adoption.  Catie's birth mother
placed her

for adoption, and there is a big difference in those words.

Most people don't know, but saying, "given up for adoption" can be offensive to adoptees.   The correct terminology is to say, "placing a child."   However, saying biological parents versus birth parents is really just a preference for the adoptee.

Catie was born on a Wednesday and her adoptive parents received a call the very next day. They picked Catie up on Monday.  Her adoptive parents had waited 7 years for a baby.  "The only thing I knew about my birth mother was that she was 15 years old, Italian, and she wanted me raised Catholic. And, that my birth father was 16."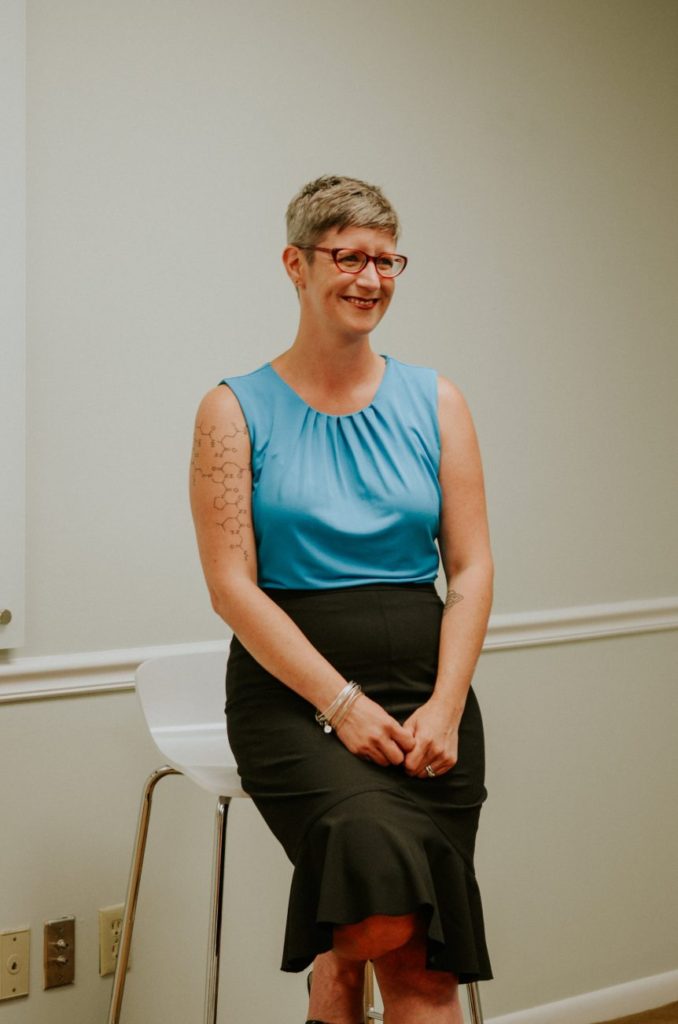 "I can remember in 6th grade having to do a family tree project.  But I was adopted, so I went to my teacher and asked if I could have another option to the project.  My teacher told me my adopted family was my family, but at that age I didn't feel like I fit in, so doing a family tree didn't really make sense."
In 1999, at the age of 18, Catie met her birth mother.  You actually had to be 21 to petition to the courts to get the record opened, but they will only consider opening a case if there is a waiver.  The process is definitely different now.
Get this. If you were born between 1964-1996, then the birth records were just opened about a year ago!  Those who placed child for adoption had the option to have all identifying information blacked out.  But, now they're required to fill out medical information.   Today,  you have to fill out a form and you can get a copy of your birth certificate, but never your original.  "It's crazy when you look at the birth certificates side by side–(an original and a copy) you would never know."
"Adoptees feel very loyal to their adopted families and don't want to hurt them. They work so hard and do everything they can to get us, but it's still hard because there is this deep rooted question of who we are and where we came from."
To learn more about adoption, stay tuned throughout the month of November.  And, if you or someone else you know is struggling or needs some extra support and guidance through their parenting journey–whether you're an expecting parent, new parent, experienced parent, or tired parent!  Visit Columbus Birth & Parenting's website for more information by clicking here.