03 Oct

Meet: Amy Roark

Posted at 06:00h

in

cancer

,

caregiving

,

Childhood

,

Columbus

,

columbus families

,

Disease

,

Family

,

friendship

,

healing

,

Heath

,

Local

,

Local Family

,

love

,

Marriage

,

Meet the Family

,

Mental Health

,

parenthood

,

reflection

,

Responsibility

,

spiritual

,

Story

,

Things that Matter

,

Topics that Matter

14 Comments
"You are, without a doubt the most beautiful girl I have ever seen in my entire life, and I don't know how a guy like me ever got so lucky to get a girl like you."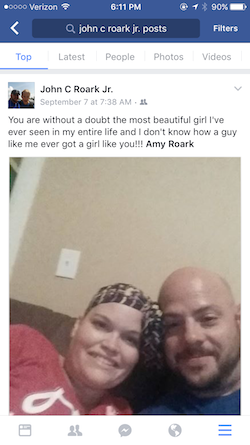 My husband reminds me that he loves me daily.  It was a part of our wedding vows. He posts it on Facebook and he looks me in the eye and repeats that same quote when he thinks I need reminded of how beautiful he thinks I am. I smile and say thank you, because I don't know how to take a compliment.  We have been through some crazy ups and downs, like getting married twice because getting married without our families was not an option.  He loves me and I love him too.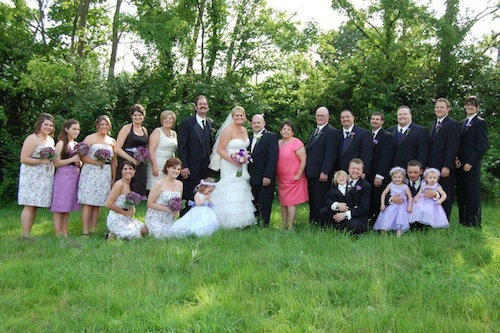 First off, let me explain that before my diagnosis, no one in my family (full of women) has ever been diagnosed with breast cancer.  All four of my grandparents are still alive and in good health.  My mom and her two sisters have six girls and two boys between them.  We are very healthy people– that don't always practice the healthiest of choices.
The day I learned I had breast cancer I told myself I was prepared.
I had found a way to make a joke of the whole situation. "I have great breasts… they aren't going anywhere." I could not bring myself to say breast cancer. I could not force myself to say Inflammatory Invasive Ductal Carcinoma Stage 3B. I was a thirty-year-old wife and mother who was looking at the tallest mountain to climb and left without any safety gear. Somehow, I thought I was ready.  I had no idea how much I had to learn. I got a crash course in cancer 101, and I didn't even remember signing up for the class.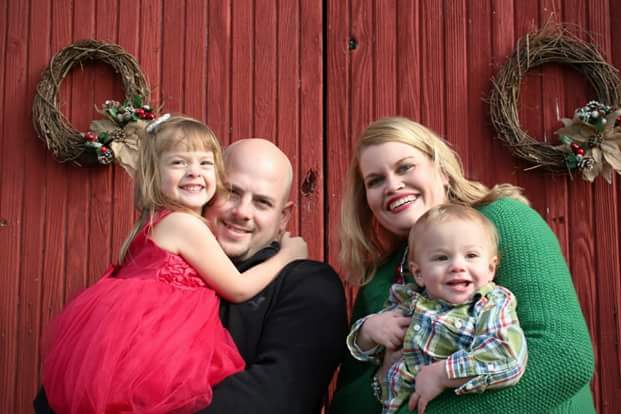 It wasn't the cancer that scared me. I was scared of how my life was about to change. It was like my family had a new pet puppy that was now a part of our lives. Cancer was barking in my face leaving me with question after question. I felt fine– other than a nagging pain from the lump in my left breast. This pain that I had dealt with for four months, had now transformed itself into what looked to me like an octopus on my mammogram. This octopus quickly transformed into a full-grown alien with a name: Cancer.
Mentally, all I could think about was a strong desire to protect my babies from this alien. Charlie is my three-year-old little guy. He loves trucks, Lightening McQueen, and cowboy boots.  My daughter Raine is seven going on seventeen. She loves gymnastics, cheerleading, and make-up tutorials. She never ceases to amaze me.
I had no idea how I was supposed to sit down with the two most important people in my life and explain to them— that mommy had cancer.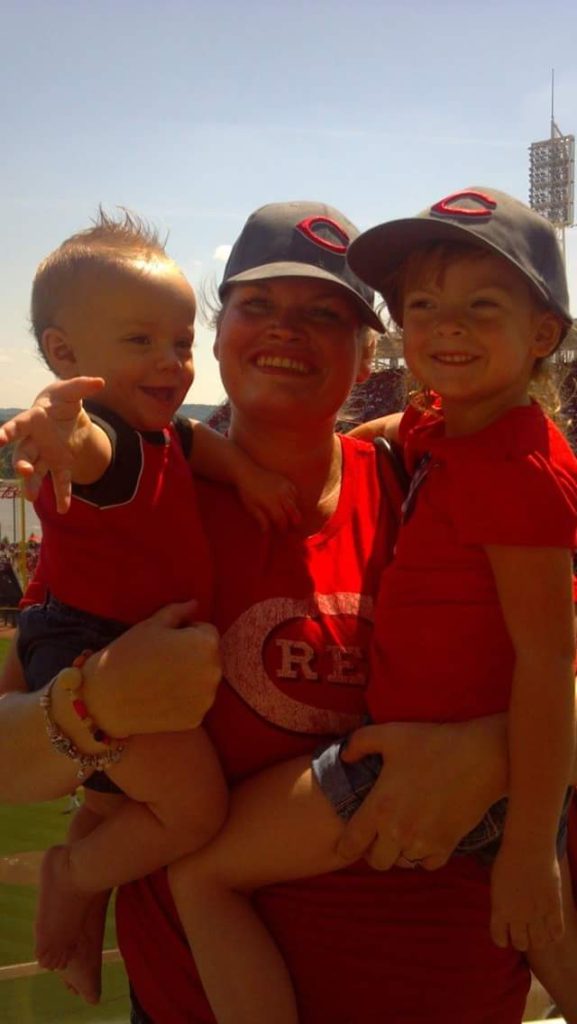 I couldn't do it.  I didn't want to rip their world apart or destroy any of their innocence.  So, I decided that until I was ready, nothing was going to change.  And, I forced my entire family to keep my secret. My mother has this remarkable talent of taking really bad situations and picking out the positive.
When I was diagnosed with cancer it was over the telephone. The world didn't stopped because I had cancer. I was at work when I got the call, and going back to my cubicle pretending everything was okay was not possible. I left work.   And, my mom booked us a resort in Gatlinburg, TN. We spent the weekend away trying to numb the pain and forget about reality for as long as possible.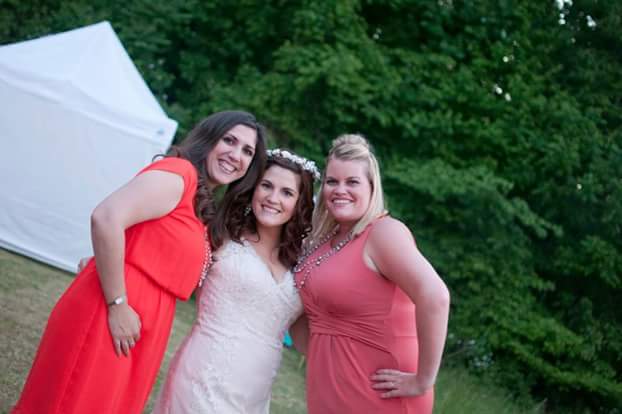 One evening, I was sitting on the porch smoking a fair well cigarette and my Mom came to scold me.
"You know you're going to have to quit smoking, Ame. Those are no good for you," she said. I replied,
"What's going to happen? Am I going to get cancer?" It was a bad joke but it was the truth.
I had had enough of pretending.
We laughed and made great memories, but time kept ticking away. Soon I was going to have to face everything I had been ignoring. My babies were none the wiser and my husband John had never been more brave.
Strange things happen– when people think you're going to die.
They are nicer to each other for no other reason–other than they don't want to make the person with cancer angry. I saw this happen first hand during a trip when my sister and stepfather made up, and put on happy faces after not speaking to each other for months. Cancer made the big things seem small and not worth holding on to.
On Wednesday August 10, 2016 I met my surgeon, Dr. Povoski, at the Stephanie Spielman Breast Center. The Stephanie Spielman Breast Center is a magical building that is tucked away not far from The James Cancer Center where they think, talk, and feel boobs all day everyday. The doctor examined me and took pictures of my breast. I joked,
"I will wait for my new set to send these pictures to Hugh."
"Hugh?" asked Dr. Povoski.
"Hefner," I retorted.  (I was not letting cancer get the last laugh).

 I could not process anything they were telling me.
Do you know on the cartoon Peanuts how when the adults talk it is all gibberish? That is what it sounded like to me when my doctors were talking.My doctor told me that the next year was going to be very difficult, but that I was not going to die.  (Not going to die! Okay, I heard that!)
My treatment plan would consist of eight rounds of chemotherapy, (four weeks of Adoxorubicin (Adriamycin), and cyclophosphamide (Cytoxan), and four weeks of Taxol), better known as ACT. Next a mastectomy of my left breast. Lastly, I will receive thirty rounds of radiation–Monday through Friday—for six weeks. Once my treatment is over, I will receive hormone therapy for ten years, tricking my body into thinking I'm menopausal. As my breast surgeon told me what to expect in the coming days, weeks, and months I just sat there blank faced, and unable to speak.
I had so many questions but I was unable to articulate any of them.
The reality of what I was facing was coming to light and it was now time to start climbing the mountain. The base was much wider then I had ever imagined. I was warned that I would hear all sorts of horror stories. I imagined myself turning into the crypt keeper, completely miserable and bald. I still didn't know what I was going to say to my children, but I knew my days of hiding cancer were running out.
The next step was meeting my oncologist to talk about what to expect with the chemotherapy. We talked about second opinions, options, and worst fears. I didn't want everything what was happening to affect anyone else's life, but it had. Nothing was ever going to be the same. I had decided there were things that I was no longer willing to miss.
Raine's first day of second grade and Charlie's first day of preschool which were coming up quickly and I just had to be there.  I was granted short-term disability from work, which was a relief because I had a new full time job: beating cancer.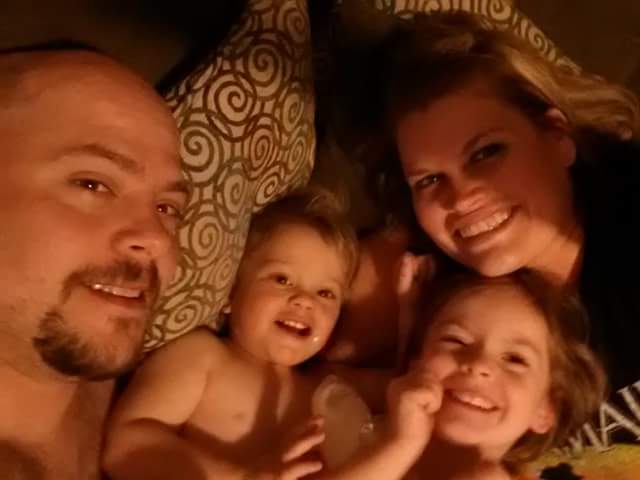 John and I made the decision to sit down and tell Raine and Charlie that Mommy was sick.  We sat down on our couch and talked about how Mommy's hair was going to fall out and that she was going to be sleepy at times. Telling them was like talking about someone else. I didn't know how treatment was going to go. We didn't say "cancer" but instead– sugar coated it with words more kind for our babies.  Charlie played with his toys not really aware of anything going on.  He handled it like any three year old would, and gave me a hug and a kiss and said, "It's ok Mommy."  My daughter on the other hand, showed her true colors, so strong and so brave.
She was stronger then any seven-year-old child should ever have to be.  She asked questions and held my hand.
She asked if she could call Aunt Key (my sister) and ask her how to make me better.  My sister is a nurse and Raine thinks the world of her, and I told her she could call her anytime. If only Aunt Key knew how to make this all go away.  From that day Raine was my morning nurse doing her rounds.  She would ask me on a 1 to 10 smiley face scale, with 1 being the worst and 10 being the best, "How was I feeling?"  Overnight she went from my little lady to a young mini adult.  She had real fears and concerns about what was going to happen to me.  And, I promised myself I would never let her see me down and out.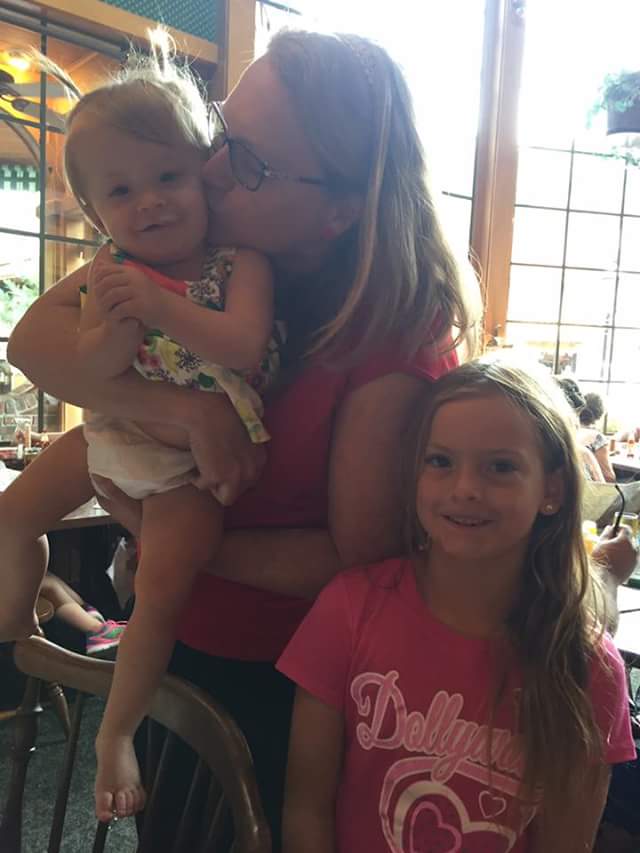 After telling my children, I decided I was also ready to tell the rest of the world.  With the help of my family, we started a support page, https://www.facebook.com/Roarksupport/ I had already told my family and close friends, but now it was time to document my journey. Throughout the last two months I have questioned how much I should share. It's hard being sick and explaining how you're feeling. On one hand I am a mother, and I feel like no matter how sick I am, I must always be strong. On the other hand, I feel like people have a strange view of people with cancer. People often assume that if you have cancer you are very sick and cannot do anything for yourself.
I wanted to document my story so people could understand what the day-to-day life of living with cancer was really like, not the misconceptions everyone had in their heads.
However, I am still in the horror film stage, I can only see myself turning into a character on The Walking Dead. Before my first round of chemotherapy, there was a multitude of emotions running through my body. At first, they take you in for a "check up" which entails getting your temperature, pulse, blood pressure, weight, height and a blood drawn to ensure that you are healthy enough to be poisoned.  I sat in a chair waiting for my IV to be placed and the nurse looked at me full of concern and asked, "Are you okay?"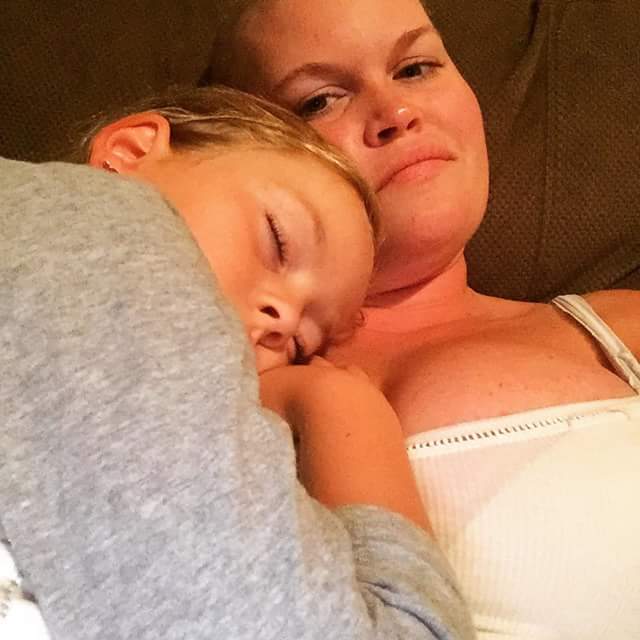 This was a loaded question.  No one at this building should ever be labeled as "Okay." All of the people here either had cancer or worked with people who have cancer, which cannot be easy.  I nodded, shrugged the nurse off, so she repeated herself, "Are you okay?"  It was enough to send me over the edge.  I released all of my frustrations out on her.  "I am not okay. This is not okay.  I am thirty years old. I shouldn't have to be here.  I should not be getting chemotherapy.  Stop asking me if I am Okay!"  They gave me anxiety and nausea medication and I slept for the next three days straight.
When my hair started falling out two weeks after my first chemotherapy treatment, I told myself not to be vain.
Cancer does not paint a pretty picture, but there are worse things then losing my hair. Up until this day my side effects have been more mental than physical. While rushing out the door for church I ran my fingers through my blonde hair one last time. As I got to the bottom I had two clumps of hair in each palm. We were running late so I had no time to delay.
I choked through it, knowing that this had been predicted.
Don't be vain I would think, it is only hair. But there was so much more to it than that. Losing my hair meant I was going to look a certain way. A way that made people want to ask you questions. Like it or not I was going to have to learn how to talk about my illness and I was going to have to learn how to take a compliment. Labor Day came and with it went my blonde hair. My second round of chemotherapy was scheduled for the following day and this was something I decided I was going to take into my own hands. I braided off sections of my hair and Raine snipped each one off. I thought that it would make it less scary for her.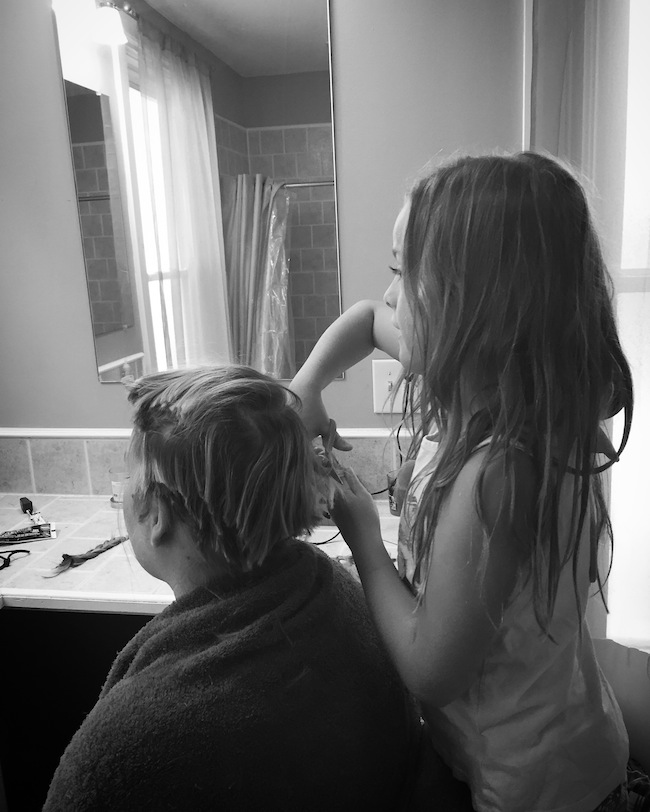 Raine was not scared. She was excited. I was her first experimentation with beauty school and she couldn't mess my hair up. She had done a number on her own hair when she was four and was not allowed access to the scissors ever since. My sweet Charlie was more affected by my hair than anyone else. I tied my bald head up in a blue scarf and he screamed,
"Ahh!! mommy your hair is blue now?"
I said, "No this is just a scarf. Do you think I am scary?"
He would nod but not say yes. I would scoop him up and tickle him. "Am I scary now?"
And he would scream out in excitement, "No!"
I didn't want to be scary to my Charlie.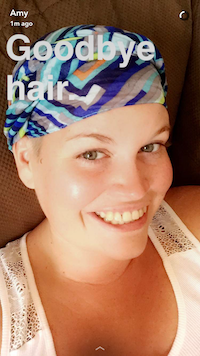 It was a relief when my wig had come in that Thursday. I was empowered by the thought of my new locks. I could go back to hiding underneath it. Something happened when I put it on. Besides strangely looking a lot like my sister, I gained a large amount of courage! I transformed into Amyoncé (my version of Beyoncé), a cancer kicking diva that could not be stopped. But something else happened when I put on my wig.
I felt like I was not being honest with the world. I could put it on and look like everyone else or I could take it off and be the real me, the new real me. The woman who has cancer and is learning each day how to ask for help. Realizing that this is one fight that I am going to have to do with the help and love of others.
Throughout this journey I have decided it is perfectly fine not to be okay. However, it is not okay to stay there. My anxiety has been heightened to new levels I didn't even know existed. Every other Tuesday has turned into the most honest days of my life. Some days I want to let everyone in and tell them how horrible cancer can be, but most of the time I want to put a mask on Cancer. I decided I will not mask my cancer in October. In two months my whole life changed. I went from being a working mom and wife loving life– to a full time cancer patient.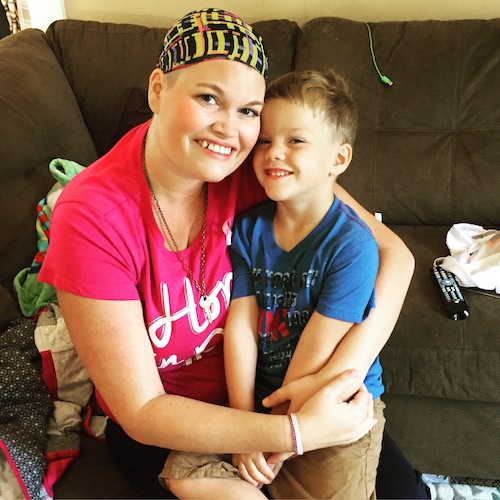 The doctors kept saying "Some people have no side effects." I always thought, "Show me that person!"  My biggest fears in the beginning were of the unknown. Everything I thought and read had not came true. The new truth was I was going to be able to survive and I had to find a way to raise awareness.
I came up with a slogan. Feel your tots, report any knots.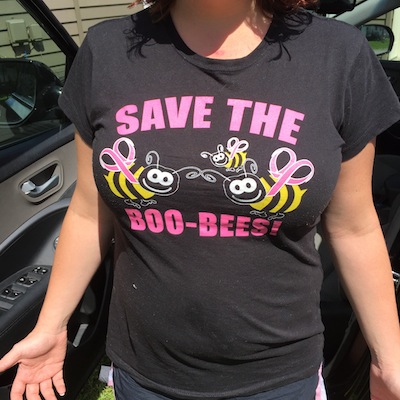 I went to the doctor twice before they sent me to the breast center.  I waited a month after I felt a lump before I got it checked.  I had zero family history. There was no reason to be concerned. I have breast cancer and because of that every woman in my family is going to get checked or already has. My beautiful Aunt Carla was following suit and to my entire family's surprise, she was also diagnosed with breast cancer in early September. Although her journey is just getting started my family has now joined together in this fight.
Just because you don't fit what cancer should look like, doesn't mean it is not there.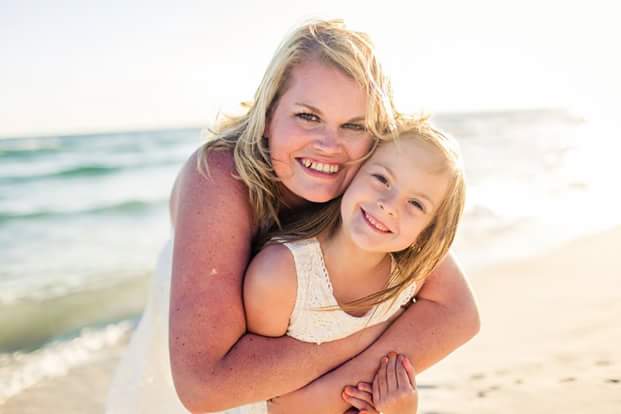 What I want most to come from this is I want women who don't think they have any reason for concern, to be concerned.  Once a month, take a minute to give yourself a self exam, take notes, and make a doctors appointment if there is even the slightest concern. Cancer is scary and ugly, but it shouldn't be hidden.
The unknown of what is going to happen is the worst part.  I know more about cancer then I ever wanted to, but I still have barely scratched the surface.  The best part is all of the people who have came out of the woodwork to tell me they are thinking about me, praying for me, and loving me!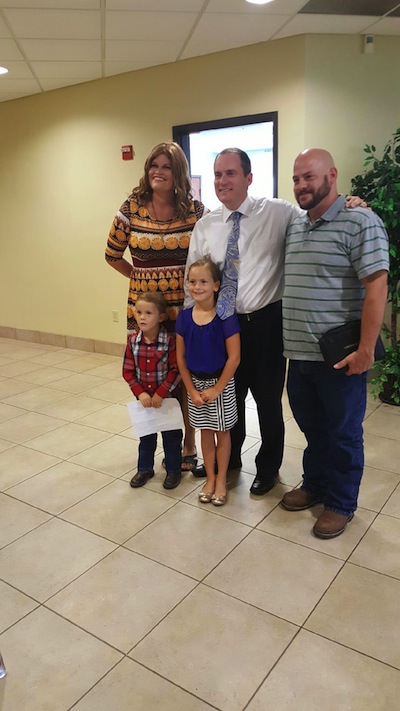 John has a great love for music. He enjoys playing and listening the blues.  He has a great group of friends in the Columbus Blues Alliance and he loves playing at the Hey Hey Club Wednesday night open Blues Jam. When everything happened, our friend Jeff Allen reached out and said he wanted to have a fundraiser for John and me!    On October 29, 2016 Deuce 'N A Quarter and Dock Adams and the Hammer will be performing at Road House 66, 480 E.  We are going to have an amazing night "Scaring the Hell Out of Cancer!"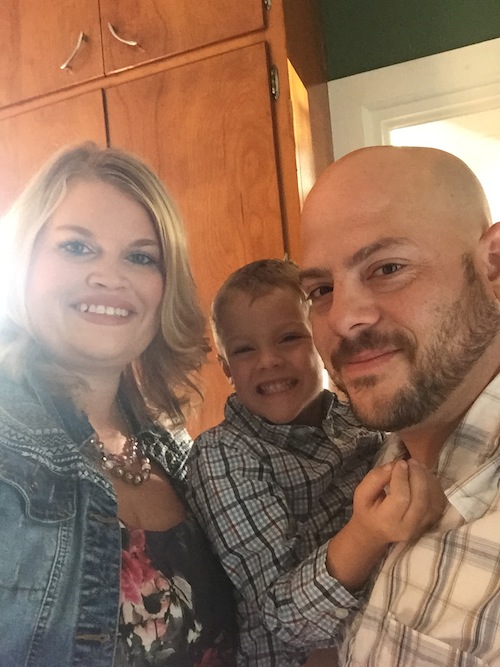 To end my story I will say this:  The love for my husband, babies, family and friends is never ending.  They have been there for me in ways I never expected.  From taking me to doctor appointments, making dinner, and just being there.   I could never thank them enough.  I love you all to the moon and back.  I am ready for this journey to be a distant memory, but there are still a lot of steps ahead.
I am ready to climb this mountain and wipe out this alien and wake up from this horrible nightmare. I have learned so much from this journey so far, and yet, I still have so far to go. I am so happy that we are doing it together. If you compliment me and I quickly change the subject, please know that Amyoncé is getting braver and stronger than ever and one day she will no longer feel awkward when someone tells her how beautiful she is.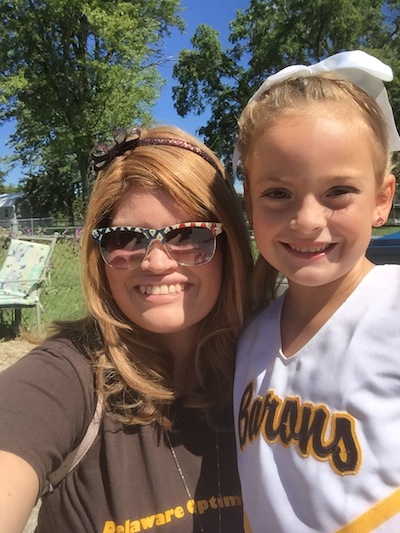 ::| Thanks to our two special sponsors this month |::