29 Jan

Growing Up…Trans?

Posted at 21:17h

in

Beauty

,

blogging

,

Childhood

,

Columbus

,

Community

,

Education

,

Emotions

,

meaningful

,

reflection

,

Things that Matter

,

Topics that Matter

,

writing

4 Comments

Growing Up…Trans? By Sam Affholter
What's my story? I think about it all the time– I promise you I've begun at least 5 different memoirs and a slew of other introspective exposes about My Life Up To This Very Moment– a transwoman, a dad, administrative assistant at an all-girls  preschool.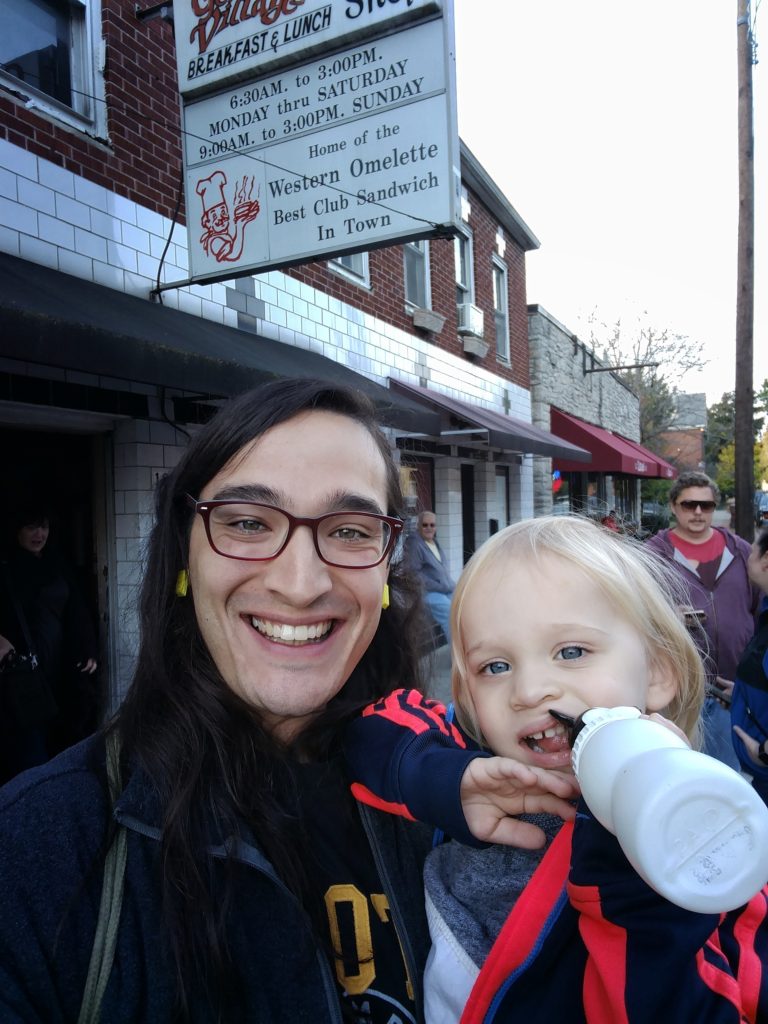 Hard as it may be for others to understand, I was 24 the first time "I" and "transgender" fell off my tongue in the same sentence. More specifically (and embarrassingly), these words came together in a Google search of "Am I transgender?" It's a confusing thing when 24 years of amorphous thoughts, desires, and experiences of gender suddenly collide with a language so absurdly plain and slightly clinical-sounding: "transgender." Once the sedimented layers of cultural pressures, shame, and fear began to erode, I began to be revealed to myself.
The question on the tip of a lot of folks' tongues is "when did you know?" Well, when did you know you were cisgender? Yea, thinking about our gender identity is not something most of us, trans or not, are encouraged to do growing up.
I have felt the pressure to look back over my life and identify, with miraculous hindsight, all the smoking-gun moments that signal the fundamental trans-ness at the core of my experience. It felt like I was given a list of items to check off as I found them in my past:

– Did I ever try on women's clothes? CHECK.
– Did I ever seem to idolize any woman/women? CHECK.
– Had I ever kept a journal in which I copied all the Destiny's Child lyrics? CHECK.
– Did I watch Gilmore Girls religiously? CHECK.
– Had I ever thought about what it was like to be a girl? CHECK…maybe?
– Were there any times I felt uncomfortable being a boy? CHECK…maybe?

I furtively went through a list like this after my Google search results came back positive. I still struggle with this kind of "discovering" my past when, truthfully, it's hard for me to tell what moments seem appropriately laden with trans-ness and which are not. For every truth on my checklist there are other truths alongside them– I was also obsessed with the Foo Fighters, got really into WWF, loved riding BMX bikes, and kept another journal with short stories about my favorite hockey players. The line between these things is muddled by typical childhood curiosities, experimentation, and social pressures and my memory is informed by popular narratives about being trans.
I decided that it wasn't fair for me to look back and, with a swift wave of the wrist, cast aside or categorize so many memories and experiences that are undoubtedly more (or less) complicated.
I spent my girlhood as a boy coached into a world of competitive sports that consumed my daily life and constructed my body in in certain ways. Having backed out of a commitment to play college lacrosse, I left for state school and slowly sloughed off that routinized, mechanized history of body-making. I entered a Women's Studies class my first semester and began a new life trajectory that meant opening up my past to reveal the distances between what I thought, felt, and physically experienced.
Feminist and queer theories, histories of radical politics and activist movements opened me up to an entirely new way of conceptualizing and being in the world, yet it would still be another 7 years before I came out as a transwoman. Another 7 years before I realized that I was a woman in the body I already have. Another 7 years before I understood that transwomen have the same right to be muscular, to wear sweatpants, to refuse to shave, and to dislike pink as any other person does. 24 years in all before I decided that I get to check whatever boxes I want in life, including "All of the above."
It has taken a lot for me to be able to believe in the kind of woman that I am now.
I didn't have any People Like Me in my life (that I knew of) until I was in college. It has take a certain amount of resolve for me to take my identity on The Coming Out World Tour– partner, family, friends, workplace, and somebody else every other hour or so who can't quite figure me out. It's been amazing and terrifying, confusing and liberating all at the same time.      
———-
Being trans, my body speaks many languages.

A few, at least, I can never be sure,

but more than one or two.

Like any language,

there are those who won't understand–

and the fact that something is

lost in translation.

Only this time it is flesh.

Flesh tangled in transition–

wrapped in jock strap, bra strap, hair tie;

wrist flick, hip twist, lip curl, chest flex.

Razor-burnt and muscle-dense.

I'm a pile of visceral literature,

an anatomy of joints that snap with sharp syllables.

Read me.

Hear me.

Sometimes coherent, sometimes not.

Always speaking.
———-