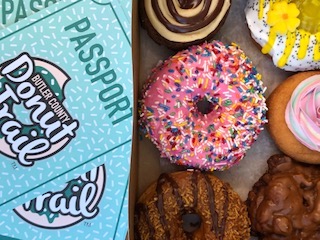 09 Sep

THE Donut Trail
If you haven't heard, there's a Donut Trail taking over Butler County. This Donut Trail is legit with the very best donuts.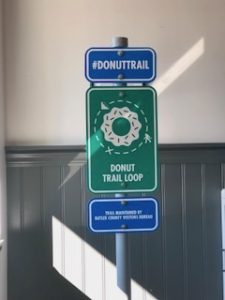 Before we get started on my donut indulgence story, let's get some Donut Trail facts under our belts.
There are 12 spots to visit
Once you visit all 12 spots and complete you Passport, you receive a t-shirt!
The Donut Trail passport can be downloaded, picked up from the Butler County Visitors Bureau, or collected in any donut shop!
Each donut shop on the Donut Trail has varying days of operation and hours. Please be sure to check the shop's website or Facebook page for current days and hours of operation while planning your trip.
The trail is self-guided, and you can start and finish wherever you'd like!
Some shops on the trail have been known to sell out/close by 10AM.
We were lucky enough to visit 4 completely different donut shops. Yes, they all had delicious donuts, but they all had different feels about them. Because of that, it was pretty tough to choose my favorite.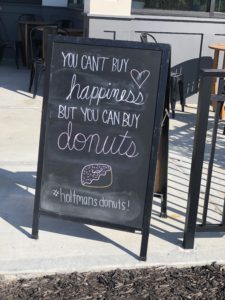 We started the morning at Holtman's Donuts. The black and white decor and modern feel set my bar high for the rest of the trail. I wanted to stay there longer but we had to keep on track to make sure we got to all our stops before the kids lost it on their sugar high.
It was by far the busiest donut shop and seemed to have many regulars coming in. They were fully stocked but were slinging donuts out by the minute. Their selection was top notch with the lemon poppyseed being one my favorites. The owner was incredibly kind and even added a few extra donuts into our box based on which ones the kids were drooling over behind the glass.
Rating: 5 DONUTS (instead of stars, guys–duh!)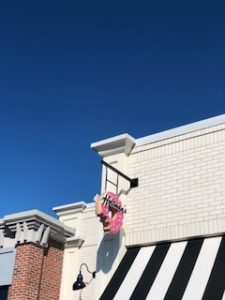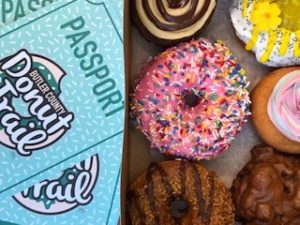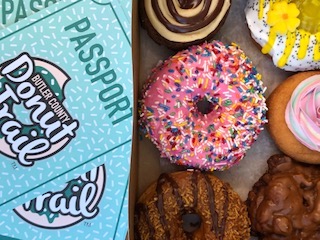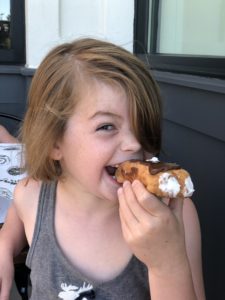 Next stop was Stan the Donut Man. The whole way I kept telling the kids that this donut shop was named after daddy (Cliff's middle name is Stanley), but they didn't buy it.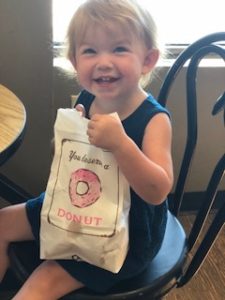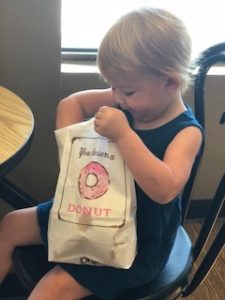 This donut shop reminded me of an old school Jolly Pirate Donuts. Like, before rebranding and renovations. Very simple, low key with delicious donuts. It's almost as if they didn't need the bells and whistles because their donuts did all the talking. Their selection was basic, so if you're looking for the fancy donuts, you won't find them here. I would describe Stan's in three words: Basic, Delicious, Simple. 
Rating: 4 DONUTS
Jupiter Coffee and Donuts was next on our list and when we pulled up I knew it would compete against Holtman's for first place for me. It reminded me of a local coffee shop where the owner is behind the counter taking every order and everything is freshly made all day long. And, that was all true.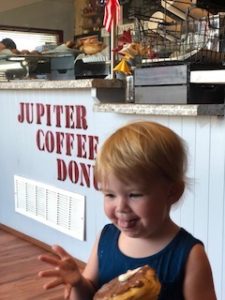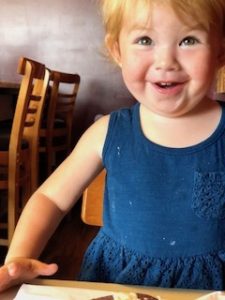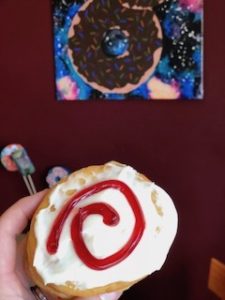 Great donuts, great coffee and great experience. I felt at home here and loved our entire visit. The kids were obviously on a sugar high at this point, can you tell?
Rating: 5 Donuts
The last stop actually turned out to be my favorite. Kelly's Bakery was located in a strip mall and I was pretty much done with donuts at this point. Not because we had any bad experiences, just SUGAR OVERLOAD!
We got to Kelly's around 11am expecting to grab our bag or box of donuts and head on to lunch. When we got there they were surprised to see us and hadn't saved us any donuts. So many apologies came from the lady behind the counter but it was completely okay with me.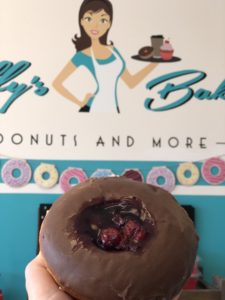 She grabbed her last few specialty donuts and put them in a box for us and we started talking. It was Kelly I was talking to. She had opened the business with her mom and the shop was named after her. She told me that the Donut Trail had made such an incredible impact on the volume of business for them and was also creating millions for the town. You know I'm a sucker for a good story and this was the perfect ending to a perfect morning. How amazing is it that this fun trail where we get to experience all the good stuff has impacted so many people and places in an incredible way?
Kelly told me that summer is normally the slow season for donuts and they just can't keep up. Guys, this right here. This is absolutely amazing.
Rating: 5 Donuts
I went into this Donut Trail adventure thinking we would binge on the most delicious donuts and spend some quality time as a family. What happened is I saw a town transformed by donuts. The amount of money, jobs and dreams that are coming true because of what Butler County has created is one that should be replicated and shared about.
Check out more info about the Donut Trail HERE and schedule a day or even weekend visit to The Donut Trail and Butler County. Your sweet tooth will thank you.
Thank you, Butler County, for your hospitality and for a weekend our family will forever remember! XOXO