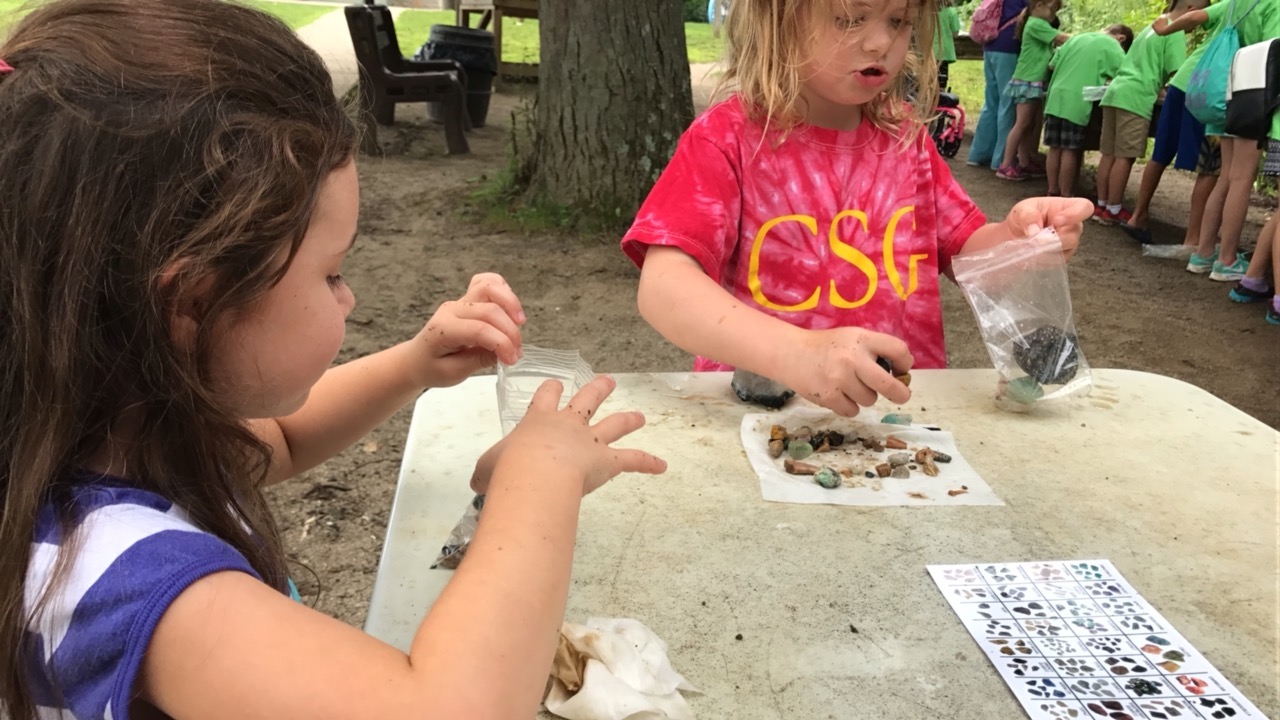 09 Aug

Ohio Staycation

Posted at 22:48h

in

Activities

,

blogging

,

Business

,

Childhood

,

Columbus

,

columbus families

,

Education

,

experience

,

Family

,

friendship

,

Fun

,

Local

,

local business

,

Local Family

,

Outdoors

,

Uncategorized

0 Comments
It's the beginning of August and you realize you've been vacationing through other people's Facebook posts, but not a single vacation was one you actually took.
Oops.
But, luckily, there are still a few days left for some summer fun.
I'm not saying vacations are a must, I'm actually against the planned, yearly trips, but I do think summer is the time where you check off some things on your bucket list. Because our kids are so young and we wanted to keep the spending to a minimum, we decided to do a little staycation. What is a staycation you might ask? Well, my definition is–a little vacation close to home. We decided to take an Ohio staycation, and I'll be honest, it was much more relaxing than a full on vacation.
So, what did our week look like?
On Friday, we….
Went to the Olentangy Indian Caverns. Cliff still had to work this day, so Georgia and I decided to just take the big kids. I think that was wise since the stairs that take you into the caverns are very steep and slippery. Besides venturing through the caverns, we played a few rounds of miniature golf (our kids found where their balls escaped to on the last hole and they kept playing over and over again), went gem mining, and climbed the rock wall.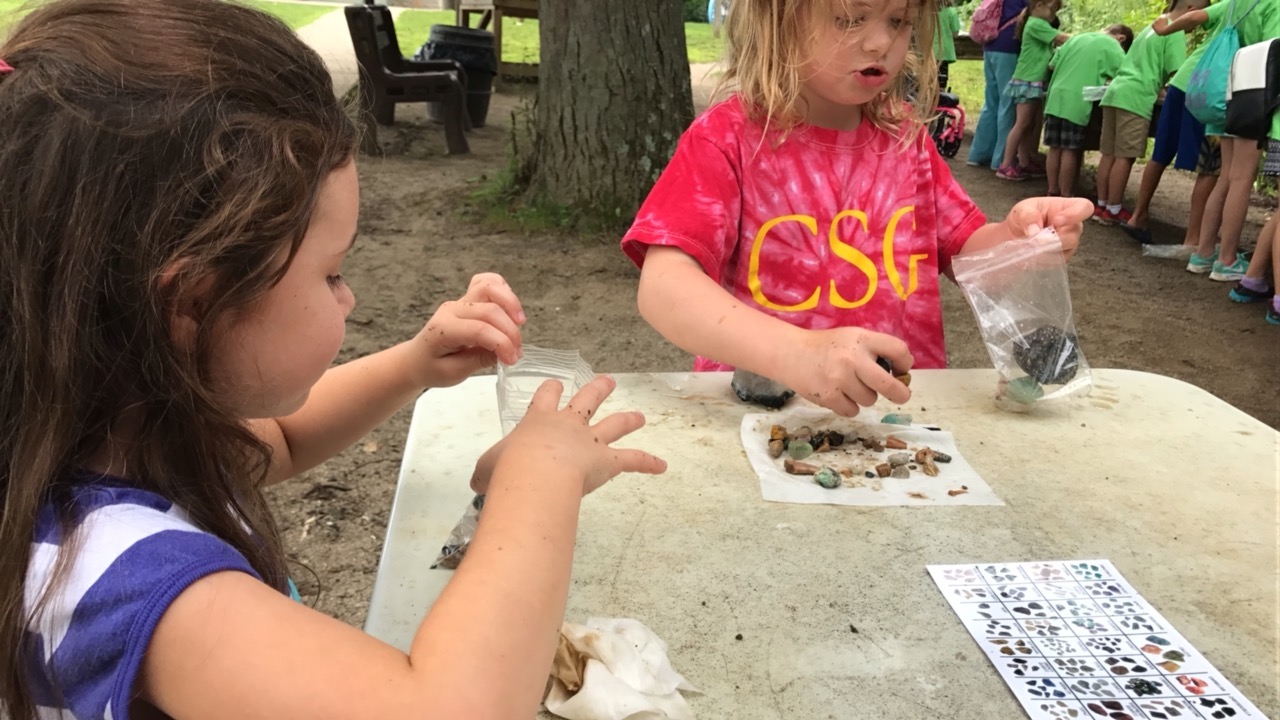 ---
Pros: 1. SO much to do. We didn't even get the chance to experience the petting zoo with all the animals. 2. Although it was busy, we didn't wait in line long for anything. 3. The kids had a blast–I think the gem mining was their favorite. Or, maybe that was Georgia's favorite? Ask her how she dug her hands through the muddy water to find lost gems that kids left behind. Either way, it was a great time.
Cons: 1. The cavern tour was kind of boring. Yes, I hate to say it, but I would have much rather explored the caverns on our own. The tour guide did so much talking, that we bailed about 10 minutes in. There was definitely more talking and very little walking. 2. Okay, I can only think of one con.
---
On Sunday, we…
Went to Zipzone Canopy Tours. Cliff and I decided to just take Delaney (our oldest) because she's the only one of our three that met the weight requirement. Kids who join the tour must be at least 7 years old and 50 pounds. But no worries, they are opening a younger kid's Adventure Park on August 12th that is geared toward ages 4-6.
Cliff and I took the Canopy Tour, which is the full tour, on his birthday, but decided to take the Zip Rush Tour with Delaney. The Zip Rush tour only has two zips, which wasn't enough for our daredevil girl. We had to promise her she would get the full tour next time.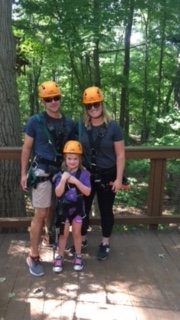 ---
Pros: 1. The staff and facility are amazing. We felt absolutely safe and comfortable the entire time. 2. It is so much fun. Really. It is the kind of experience that you are glad you did, especially since you are scared out of your mind that first zip. 3. The groups are normally no more than 10 people and that is perfect. I feel like it keeps things going and it helps the tree top area from getting overcrowded  while you are waiting to zip.
Cons: 1. If you've been before, hearing the safety speech is kind of repetitive. But, I guess it's better to be safe than sorry!
---
On Monday, we…
Went to King's Island. We really debated making this a two day trip, but I'll be honest, with three kids under the age of five, one full day was plenty. There was only one point in the day that I thought maybe a half day would have been plenty. That point was at 4pm, during two meltdowns. But, I'm hear to say we survived with the help of a slushy and another round of bumper cars. For us, there was no point in traveling to any other part of the park except for the Snoopy kid's area. Even staying in that one area, we had more than enough to do to keep us busy. I'm not sure if Monday was the contributing factor or not, but the park was pretty empty and lines weren't bad at all.
**TIP: Buy the souvenir drink bottle for $10. I promise you that you will refill that sucker at least five times throughout the day. It's so worth the money you spend up front.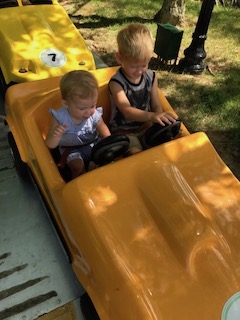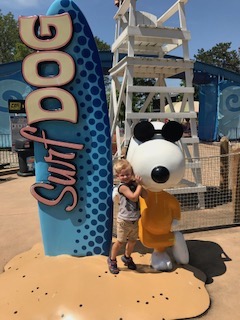 ---
Pros: 1. The drive was perfect. In comparison to the drive to Cedar Point, I would take King's Island any day. 2. The kid's area was so much fun and my kids had plenty to keep them happy and busy—so momma was happy, too. Win-win. Also, let's be honest, this is much cheaper than Disney!
Cons: 1. The inability to put my tantrumming (is that a word?) child down for nap somewhere. I probably can't blame this one on King's Island, though.
---
On Tuesday, we…
Went to Zoombezi Bay. This trip was another "big kids only" trip because adding a dangerous, fearless two-year-old to the mix at a water park scares me a bit. This was the day after King's Island, so I'm thankful they opened at 10am and we could sleep in a little before this trip. The kids had been waiting all summer for this and it really was a fun day with them. I even went down a few of the slides in the kid's area. But, beware, there are kids dumping buckets of water everywhere so you need to keep that swimsuit tied tight. Not that I learned from experience or anything.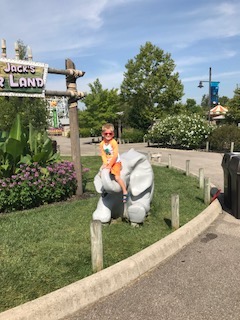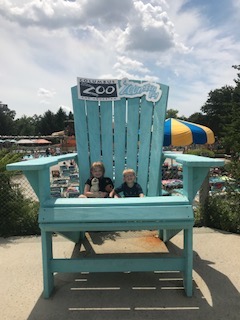 ---
Pros: 1. You can bring your own snacks in. You can't bring large coolers, but we packed lunches in lunch boxes and brought in our own water. This saves on a lot of unnecessary expenses. 2. If you haven't been in awhile, or maybe the last time you went it was called Wyandotte Lake, you might not know that you don't have to rent inner tubes anymore. Remember what a pain that was?
Cons: 1. It's pretty expensive to get in, especially when you have a younger crew like mine and they won't last the entire day. 2. If you don't have a Fast Pass, expect to wait much longer than you would think. It's almost necessary to get one so you can skip the line and get directly on the water slide.
---
On Wednesday, we…
Snuggled and cleaned the house. Too bad I don't have pictures of that once clean house.
---
On Thursday, we…
Went back to school shopping at Polaris Fashion Place.
Enough said–I spent more than I should have and realized after the fact that I went before tax free weekend. No wonder the mall wasn't that busy. Sigh.
---
On Friday, we…
Went to Friendship Park in Gahanna. It was the perfect end to our week, really. This trip wasn't part of our plan for the week, but sometimes those trips are the best ones you make, with the best memories made. We packed the kiddos up, put their rain boots on and headed to park to go creeking. We walked past the playground (which looked super cool), and headed straight down the path to the water. If you've never been to Friendship Park you really need to go. On the way to the creek, there are places to stop to read popular stories as part of their story trail. We will be back to explore more soon!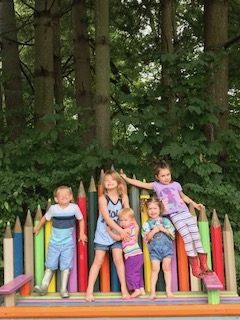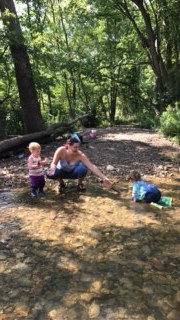 ---
Pros: 1. We were the only ones in the creek. This will probably be the last time it's not crowded since we're sharing it with over 20,000 people. Ha! 2. The water was the perfect level for the kiddos. They could walk across the creek and found areas where they could stand on rocks.
Cons: MOSQUITOES! Bring bug spray, for sure.
---
Our list doesn't even come close to sharing all the fun you can have right here in our amazing state. Next time you are planning a vacation, may your story begin right here at home.