31 Dec

New Year: New Ride

Sometimes I get to do really cool stuff because of Columbus Stories. The most recent experience was a mix of exciting and scary. When I was invited to hop on a DRIVERLESS shuttle, my first thought was as expected– "Am I going to die?"

After I realized I was going to make it out alive, my train of thought quickly moved to how freaking cool this was. Have we really evolved that much already? Are we really looking at a world where cars will be driving themselves? Are The Jetsons going to become reality?!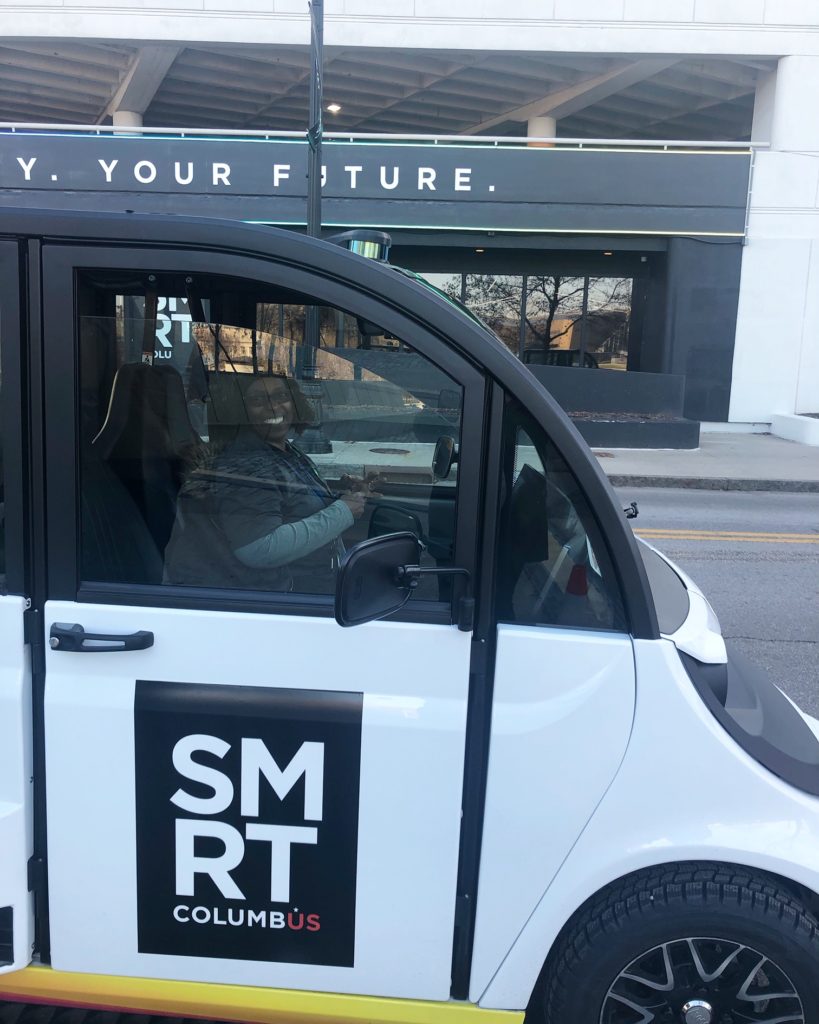 Important pieces of information you'll want to know:
It's FREE!
Each shuttle can hold up to 6 people, one always being the attendant.
They run from 6 a.m. to 10 p.m, 7 days a week.
An attendant is always in a shuttle
The shuttle is free to ride.
Smart Circuit services destinations along the Scioto Mile,
including COSI, National Veterans Memorial and Museum, Bicentennial Park and Smart Columbus Experience Center.
Has a maximum speed of 25 MPH.
Shuttles will arrive at each stop approximately every 10 minutes.
The full route takes approximately 15 minutes.
So, how does it work?
Smart Circuit shuttles operate autonomously, using a suite of sensors that deliver a 360-degree view around the vehicle. The sensors and intelligent software help the vehicle understand where it is; in which direction to steer; and when to slow down, accelerate, or stop for something in its path. Mapping allows the vehicle to know every inch of its route and navigate through various traffic conditions. The vehicle operator provides riders with information about the route and technology, and can take control of the vehicle at any time.
Some questions you guys had about the newest driverless shuttle:
Q: Who can ride?
A: Anyone! Ages under 4 need a car seat and anyone under 18 needs a legal guardian to accompany them.
Q: How many are there?
A: There are 6 vehicles total, 3 going at one time.
Q: How long will they be here?
A: They are available to our city for one year to collect data for future uses!
Q: Will they always have an operator?
A: Yes, there will always be a fleet attendant on board.
This concept is pretty cool, right?
It's an experience you don't want to miss. Although it's something fun to try out, the goal is something larger than the 15 minute ride you can take around our beautiful city.
"First mile, last mile" is the end goal. These smart circuit vehicles will eventually help people get to where they need to go past where the current bus lines can get them. These vehicles will take them to clinics, doctors, and resources that are necessary for every day living.
This concept will change how people have access to what they need.
This concept with be a benefit to humanity.
Ready to give the driverless shuttle a try? Make sure you take a photo and tag Columbus Stories while you are there! We want everyone to know about this incredible technology and resource right here in our city.
Learn more here