26 Aug

Meet: The Pedal Wagon

The Pedal Wagon started from an idea sent through a text message.
It's the truth.
Jack and Tom were best friends in college, and once they graduated, they had the question many have, "What do we do now?" They wanted something of their own, but weren't quite sure what that would be.
Muddling through some ideas, nothing quite felt right. That's until Jack's dad sent a picture of a wagon to the two boys through a text message.
Now, we're not talking about a kid's red wagon, we're talking about a pedal wagon. What's that you ask? It's a large open bar with seats, but also pedals below, like on a bike. So, you actually pedal to make the car move. Oh, and you can drink of course. So, it's drinking and pedaling, you might say–with an experienced driver leading the way. If you're lucky, you'll grab (in our opinion) the best driver, Lindsay.

They knew there was nothing like this in Cincinnati, so they decided this was the winning answer. They could make it work and this is what they were going to do with their now post-college life.
It was in 2011 that the idea originated for the two, and the company was founded. Jack and Tom were in Cincinnati when they started, later moving the company to Columbus as they expanded. In the beginning, it was just the two of them–and they would take turns driving the original wagon. As they grew, they added wagons, and also an owner. They brought on a life-long buddy, and grew to 25 drivers–and from 6, to now 8 wagons.

When they decided to move operations to the Columbus area, they found success in the downtown area pretty quickly. Jen manages this part of the operation, and is now running 5 different wagons in the Short North and Arena District areas. The wagon drivers range from college students to teachers taking on a summer job. The only requirement? You must have fun.
The drivers are the experience and also the face of the business. They are all fun, but you do have to follow a few rules—like, no liquor (wine and beer are okay), no glass bottles (did you know that Giant Eagle sells wine in a can?!), and no guns. Okay, that's kind of a no-brainer. Also, don't let your team down—PEDAL. Or, if you know your team can't handle pedaling the whole time, opt for the wagon that's part electric. Your legs may thank you the next day. Either way, it truly is a fun time.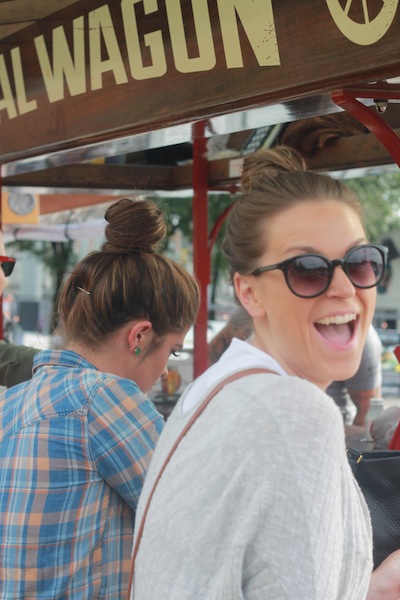 What's next for Pedal Wagon? The team plans on expanding even more.  They're looking into other places in Ohio that might be good spots. I'm wondering if somewhere like Dayton is up next?  Stay tuned, because each wagon is different in each city. Each has its own experience and places to see, which means you'll need to visit them all! I'm pretty sure I'm booking the Cincinnati one next. Join me? Let's pedal and party!