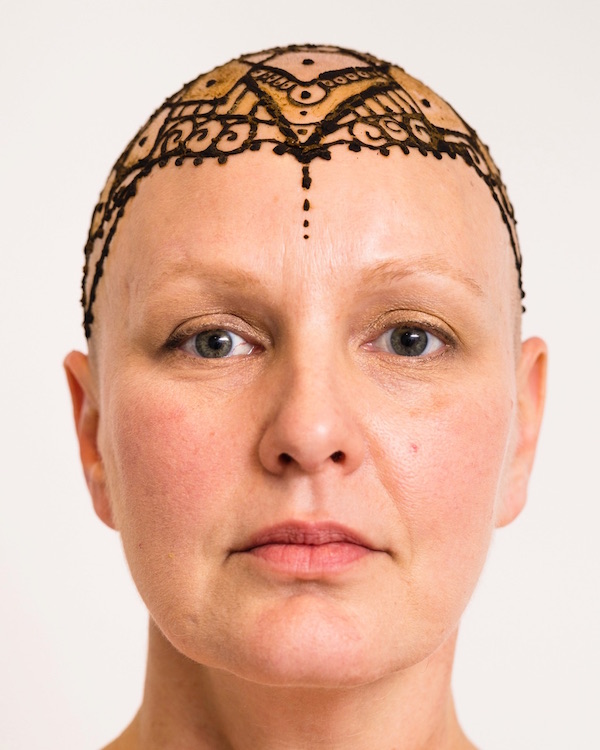 20 Sep

Meet: Lynn Hetherington Becker

Posted at 20:25h

in

art

,

Beauty

,

Business

,

cancer

,

caregiving

,

Columbus

,

columbus families

,

Community

,

Crafts

,

Emotions

,

Giving Back

,

healing

,

health

,

Local

,

meaningful

,

Story

,

Things that Matter

0 Comments

 "I moved to Columbus from Cleveland, OH in 2010. Shortly after the move I went through a difficult divorce and became a single mother of 3. I needed to find supplemental income to make ends meet and keep life going. I run an in-home daycare during the day and didn't want to put my children through having a Mom with more than one full time job. I have always been in love with art and I've been painting as long as I can remember.

I do not have an art degree and hadn't explored earning an income through my painting beyond selling pet portraits; I was self-taught and always felt a little insecure and on the outside of those circles.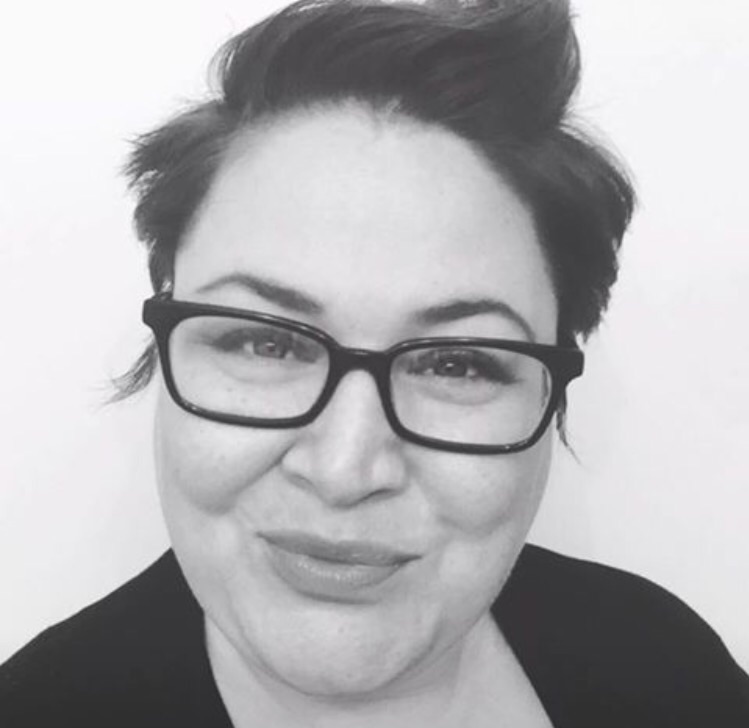 ​I had done face painting on a volunteer basis dozens of times for churches and schools and people always said, "You should do this for income Lynn!" I finally decided to give it a shot and I instantly booked clients. I was so happy, thankful and relieved to have the income. I started trying artistic designs and investing in high end body paint and face painting transitioned into body painting, first with backs and prenatal bellies, then full body art.
I felt so alive and fulfilled when I would paint on a body. I knew that I had found a true passion. I did it as much as possible, often pro bono, just to feel the excitement and electricity I would experience with the painting and the reaction and happiness of the recipient when they would see the painting.
Clients started asking me about henna.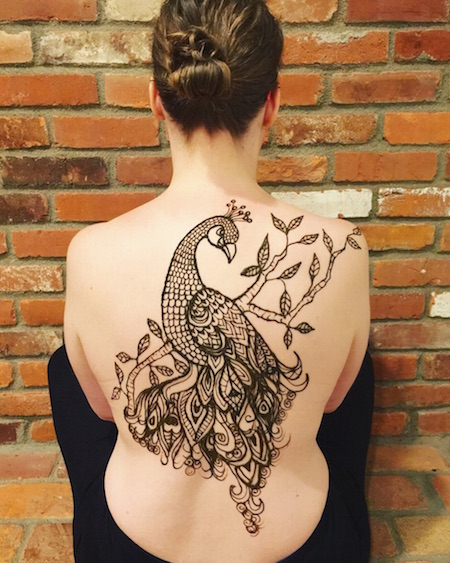 Henna is a plant based paste that dries and leaves a stain for 1-3 weeks. It is applied with cones- similar to working with a wet cake frosting. I decided to give that art form a shot as well and took to it instantly. I loved doing bigger, challenging pieces in addition to the traditional hands, feet and arms.
​One thing that is important to me is giving back to my community. I do that monetarily if it's possible but sometimes it isn't. I give my time when I can but I am usually free at odd hours. I decided to give back with art.
I did a piece for the @RonaldMcDonaldHouse and I painted an infant helmet for a mom whose child has plagiocephaly. I donate face painting services when realistic to charity events.
A while back a friend sent me a video with a collage of henna crowns. They were beautiful and my heart stirred.
I read that they are sometimes done on chemo patients as an alternative to wigs and scarves. I decided to offer to do them here locally for chemo patients with no charge involved. Cancer is terrifying and we've all been touched by it in our lives- friends, family, co-workers- we all know someone who has battled cancer. I lost both of my grandparents to it. It's a disease that makes us feel helpless and often hopeless; there is not much we can do to help someone battling cancer and we can't take it away for them.
This was a way that I felt I could do something. Help. Make someone's day a bit brighter. Make someone's struggle a bit less difficult for a moment.
My first henna crown was done on a wonderful woman named Anne. She was diagnosed with breast cancer and went through chemo and radiation all while pregnant with her second child. I was so floored by her spirit and resilience. I can't imagine having to go through that. We did henna on her head and her belly bump. Thankfully the baby was born healthy and Anne then resumed chemo. We still keep in touch through Facebook and I am so happy to see her and her family doing well.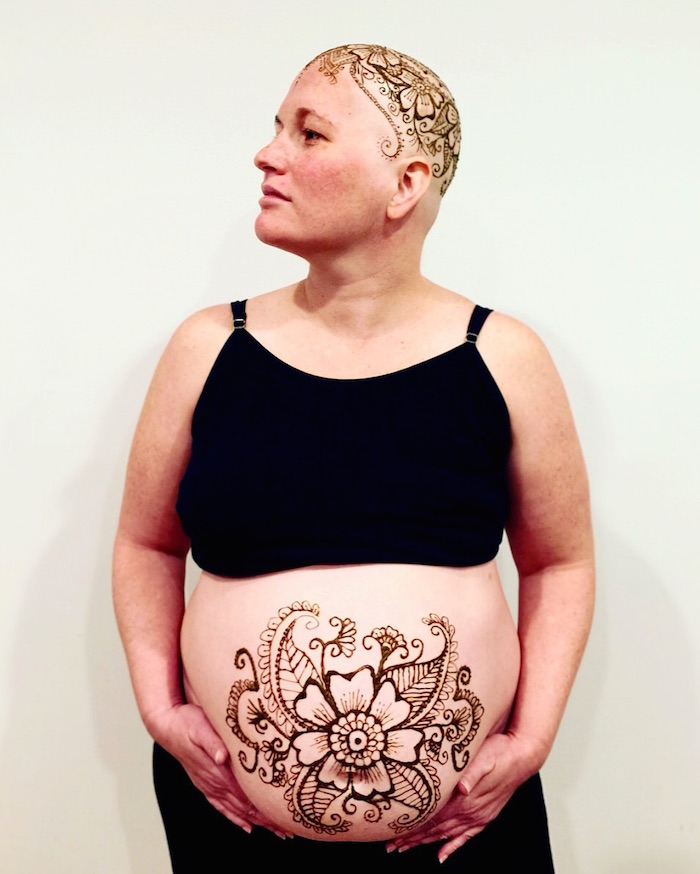 ​I have done about 12 crowns so far. All have been on women. Most are battling breast cancer but not all. They are from all walks of life. Some are mothers and some aren't.  All are beautiful and strong. One crown was on a friend of a chemo patient- they came together. She shaved her head in solidarity and as a tribute to her friends battling cancer and had a crown done. It was very moving.
​One woman wanted seahorses incorporated in her crown; I ended up doing a large seahorse back piece. Some have requests and some give me artistic license. One woman was an artist and it was an honor to do her head.
From this experience I have met so many amazing women. I'm blessed to know them. They share their stories, advice and wisdom and I post them online with pics. I hope that having the crowns done is a good experience and that sharing their stories is empowering. They have such important stories to tell. I plan to continue doing the free crowns as long as time and resources allow. It has been a rewarding experience to meet these courageous individuals and be part of something intimate with them. I also try and show my children examples of helping others whenever and however you can.
​My art has evolved in other ways and I now paint on pretty much every surface but body art is my passion. Thank you for taking the time to read my story and get to know me. I love Columbus and I am glad to find a way to give back to its people. If you or someone that you know is a chemo patient please contact me if you'd like to have a henna crown. If you would like to see more of my art including henna pics my website is www.lhetheringtonstudio.com." 
~Lynn
@l.hetheringtonstudio