24 Nov

Meet: Lindsay
While I was adopted very shortly after birth, I've always known that I was adopted, so it was never a huge surprise to me.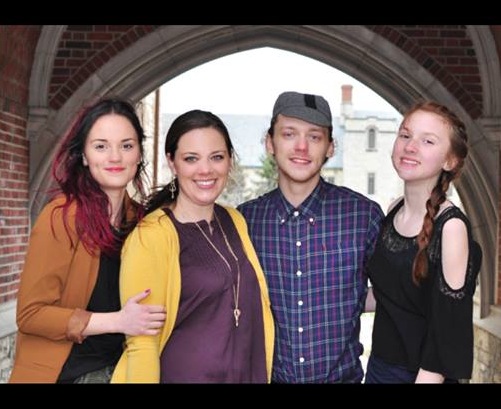 My dad always told me that I was a blue light special from Kmart and he was going to trade me in for a goldfish. It's true–I've always wanted to find my birth mom. I knew she was young when she had me, around 16 years old, and that she had no family support. I was born in Toledo, Ohio through a Catholic charity.
My family was told that whenever I wanted to find my birth mom all I had to do was call and open up my file and it was a simple as that. When I turned 18, I tried–only to find out that we had been lied to. The Catholic adoption services wanted $5,000 just to "start the search for my records."
So, years went on with not getting any closer to finding my birth mom. Until about a year and a half ago, when I was picking up my children from the babysitters and a message came across my phone.
It was from my adoptive brother, and it was a link to a news article stating that adoption records were being unsealed for thousands of Ohio adoptees in two days.
I couldn't breathe. The article was from adoption network Cleveland. And there was information about a big event they were holding in downtown Columbus the night before, encouraging all adoptees to come, share their stories, and fill out all the paperwork that they would need to obtain their original birth certificates. So on a whim, I went.
I have never felt so alive, and so in the right place then being surrounded by hundreds of people that just got me.
The next morning I lined up outside the department of vital statistics with hundreds of other adoptees and waited in line for hours to turn my paperwork in. We were told it would take about a month to get our birth certificates in the mail, but just over two weeks later the day after my 30th birthday it came!
I ripped it open, called my husband and screamed, "I'm a Bennett!"

My birth mother's name was Christina Bennett from Toledo, Ohio. I spoke with my husband for a few minutes, and hung up the phone to call my brother and tell him the news. 30 minutes later my husband called to tell me— he thought he found her. In the same moment, I opened up Facebook to see a message from my brother with a link to my birth mothers Twitter profile. We spent almost the whole night going through what limited pictures we could see of her on Facebook. And then, yes, I emailed her the next morning (to a work email-address that we found). During my lunch break that same day, an email popped up on my phone— that started,
"first off let me start by saying happy birthday." It was her.
I was driving and had to pull over on the side of the road. I was crying so hard as I read her email. It turns out– her and my birth father had married, and I was now the oldest of four siblings.
They are my world, and I am finally complete.