30 Oct

Meet: Jordan Conner

Posted at 12:12h

in

caregiving

,

Columbus

,

columbus families

,

Community

,

death

,

Education

,

Family

,

healing

,

Heath

,

Local

,

Local Family

,

love

,

Marriage

,

motherhood

,

parenthood

,

Story

,

Things that Matter

,

Topics that Matter

4 Comments
Who would have thought that three little lines could be so life changing?
The result window on my pregnancy test showed a total of three lines, the plus sign being the most significant. My husband was in the bathroom with me that night, per my request. And as nervous as I was, he was excited to see what the results would show. I had a little reservation, as we have three children between us, and my incredible husband sacrifices a great deal of time from home to be able to provide for us. In short, I am home with the kids and he has to be on the road. If I actually did the math, he is working his tail off, out of town, about 50 percent of the time. He doesn't love when I say this, but I am a "single mom" that 50 percent. That being said, I wasn't sure how I would react to this positive symbol.
To be totally honest, I cried when the home pregnancy test showed a positive result.
The tears were really a mixture of emotions: nervous, a little scared, but also happy, so happy, about a little tiny new baby. I remember saying that I think I would be more excited in the morning. Sure enough, the thoughts of starting over, preparing for a new baby, choosing a name, and holding our new baby, was more than enough to excite me. Chris, my husband, and I decided to wait to make any announcements to our families, until after our first OB/GYN appointment, one month away.
Within the first week of our baby news, I had horrible pains in my lower abdomen.
I was so alarmed by the intensity of what I was feeling, I seriously considered going to the emergency room a couple of times. And for me to consider seeking medical attention, I will only consider if I am in utter distress. Before any irrational decisions, I thought it best to research. Being as we have so much access to information via our fingertips, I took to the What To Expect website, where I discovered I was experiencing round ligament pains.
Round ligaments surround the uterus, and will need to stretch to support a growing uterus during pregnancy to make room for the baby. I have had two healthy pregnancies, but I could not recall feeling that much pain early on. This pain subsided after a day, and I felt fine. After that Sunday of being in excruciating discomfort, I had an odd intuition about the pregnancy.
I could tell my uterus was growing, just a little here and there, but I had this secret fear that the pregnancy would not go to term.
Regardless, the daily routines must go on. Chris and I were happy about planning for our new addition, and we told our three children about the new sibling we would meet next spring. I was more nervous to tell our kids than the thought of telling anyone else. A new baby and sibling will change the family tremendously, and in a great way, but I still wasn't sure how they would react.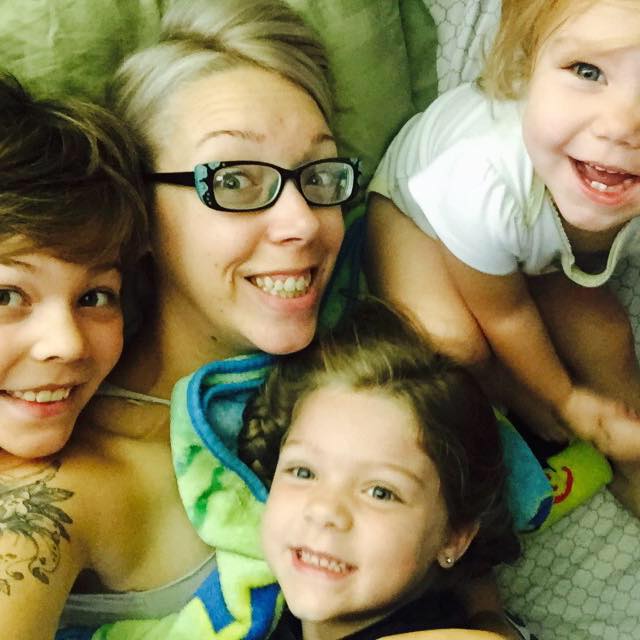 After an initial shock, our three kids, ages 9, 7 and 3 were each happy about the pregnancy and asking loads of questions about the new baby: "Is the baby a boy, or a girl?
What is the baby's name? If the baby is in your belly, where does it come out?" All of the questions they wanted answers to were asked with a love and curiosity that made me so proud.
Four days before my first baby doctor appointment, I noticed a little spotting. I wasn't bleeding, but just spotting. I wasn't feeling any pain. I was spotting just enough for me to take notice of and inform my husband. I did a little research and was put at ease when I read and confirmed by a phone call to the OB's office that spotting is very common in the first trimester of pregnancy; and this can be brought on from something as innocent as intercourse.
But the next day was a little more worrisome. Three days away from my appointment, I was no longer just spotting. I was bleeding. Bleeding scared me.
It worried Chris, as well. My husband had to leave for a quick work trip to Washington D.C., Friday to late Saturday. With great hesitation, he drove the six hours D.C. that morning for a music festival he needed to set up. I promised to stay home, and relax, as best I could. By the afternoon, I was passing blood clots. I am no expert, but I know that blood clots during a pregnancy are not good. In a panic, I called my sister. My sister was calming and demanded I stop picking up my 3 year old daughter, drink plenty of water, and lay down.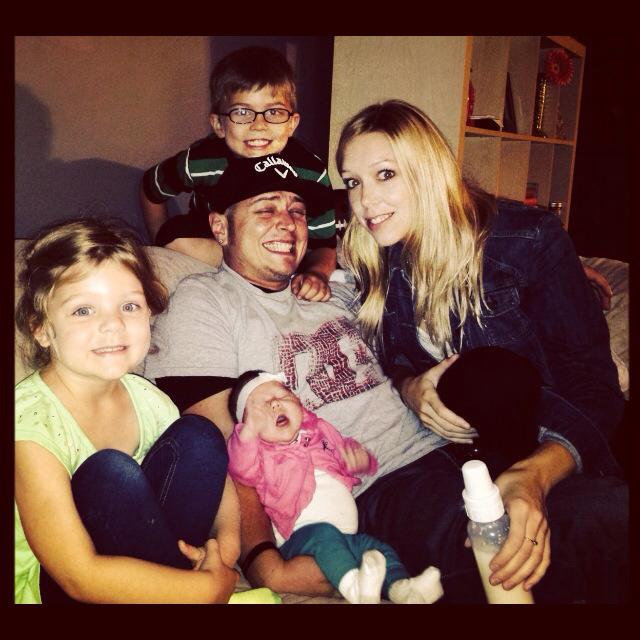 By the evening, the bleeding had not slowed down. Chris' stepmom is an OB/GYN, and I knew I needed to consult her for information or advice; anything to put my mind to rest. There was a list of reasons or possible conditions that his mom was able to provide me with. The bottom line was, she said I need to take it easy, and ultimately was in need of an ultrasound for any real answers.
The best I could do that night was relax and drink plenty of fluids. It was early to bed that night, with water bottles in tow.
October 8, 2016 was the next day. A Saturday of events I cannot shake the details of. My children woke up early, as usual and came into my room, where I was still in bed. This morning felt unlike any other. I checked to see if I was still bleeding and much to my surprise, it had slowed down. Chris FaceTimed me as he was on his way to the venue he was working and immediately noticed something was wrong. I was extremely uncomfortable and began having severe cramps. The cramps I was experiencing were in the middle of my lower abdomen. Shortly after hanging up with Chris, I received calls and texts from my mother-in-law and my best friend, Brooke, that they were coming over. I was relieved.
Chris called again to check in, and I will never forget the inflection in his voice when he asked, "Babe, I don't want to upset you, but is this a miscarriage?"
I didn't know. I really didn't, but this was not normal. The cramping seemed to be happening close together, and I happened to look at the clock to time them. I was cramping about 5 minutes apart, and they were lasting about a minute each. My mother-in-law walked in, took one look at me, and said we were going to the emergency room. I didn't fight it, at this point, I knew we needed to.
At the free-standing ER in Pickerington, I began losing a great deal of blood. I had a transvaginal ultrasound and waited. Once the results were read from the ultrasound, the RN and Doctor there were able to confirm that the pregnancy was miscarrying. This was such a difficult sentence to hear. I had to call Chris. The first phone call from him went to voice mail after what felt like a million rings. I finally was able to connect with him. My conversation with my husband is a blur; I don't remember what I said to him or what he said me, just that it was emotional.
Not only was I having a miscarriage, but I was losing so much blood, that I was being transported to OSU Medical Center for further care.
Brooke met me at the emergency room after I was transported, and my mother-in-law took my kids home with her. Brooke was absolutely my rock that day. My dear friend sat with me for hours. I was able to talk to Chris once I was settled there and he was already on his way back to Columbus. Brooke agreed to stay with me until my husband was there to take over.
Not only did Brooke sit with me for about seven hours in the emergency room, she stayed with me while the doctors performed a D&C, which I opted to stay awake for. I held her hand and squeezed with each contraction and surge of pain. This procedure, formally a dilation and curettage, removed the remaining tissue that my body did not expel throughout that day. The procedure took approximately 15 minutes, and by the end of it, the pain was gone.
I had no more pain. For the first time in twelve hours, I had no pain.
Shortly after the procedure was completed, the ER nurse informed us that my hospital room for the night was ready and I would be taken up shortly. Brooke left the hospital as I was being transported to the antepartum unit, since we knew at that point Chris was in the Columbus area.
Just as I made it up to my room, my knight in shining armor appeared. A sense of relief flooded my body. Chris made it, he was here. I remember hugging him as I lay in the hospital cart. Smiling, yet crying at the same time. The next morning, the OB doctors came by to let me know that my blood counts were low, as I had lost quite a bit, but they would still discharge me from the hospital. We would be going home, and those words were like music to my ears.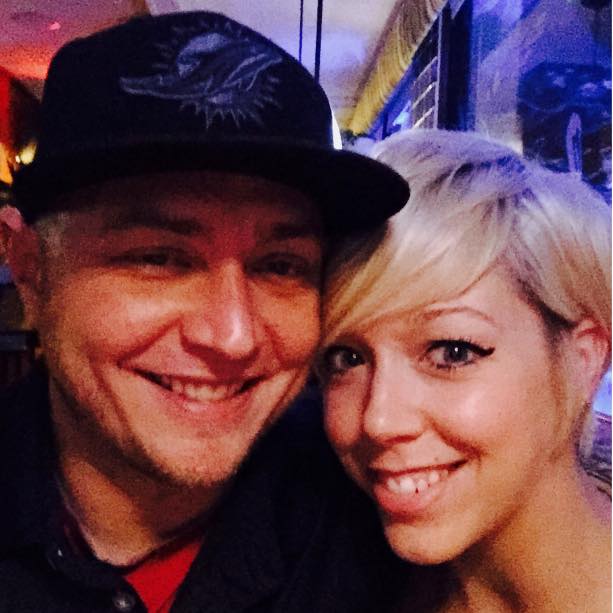 I could not have been prepared for how awful I physically felt during those next 5 days. But no matter how much relief I could get with some ibuprofen and sleep, I couldn't find that same relief when it came to our baby.
It's only twenty days later, and I am heartbroken over this.
I believe it will get easier in the day to day, but I will believe I will always be sad when I think of this baby. I find myself wondering "Why?" and trying to find answers. But there are not really any answers. Simply, the wrong egg and the wrong sperm met, and it resulted in an unviable pregnancy. But, that still doesn't completely satisfy my sadness. There have been a few sentences that have made me feel a little better though. These have come from the six different OB/GYNs and the nurses who cared for me:
"It is more common than you think," "You did nothing wrong,"  "Your husband did nothing wrong," and the one that most struck me, "Miscarriages happen so often, yet our society doesn't talk about them."
Why don't we talk about them? I have to wonder.
I believe it is perfectly acceptable to talk about this, which is why I wanted to talk about it. Maybe I'm talking about it for my own selfishness in wanting to heal, but also to help anyone else, if I can. For anyone who is reading this, who has been through a miscarriage, you are not alone.
Jordan Conner. Age 30.