09 Oct

Meet: Janani Amarasekara

Posted at 20:08h

in

Activities

,

Adventure

,

caregiving

,

Childhood

,

Columbus

,

death

,

exercise

,

Family

,

friendship

,

healing

,

Heath

,

Local

,

Local Family

,

love

,

Mental Health

,

Outdoors

,

reflection

,

Story

,

Things that Matter

,

Things to do

,

travel

10 Comments
Jan's story
I grew up as an ordinary kid, but my life story has little too many unplanned and unexpected turns that made me the person who I am today. Sit tight, and stay with me while I take you through my roller coaster journey. I am from Sri Lanka, a small island nation at the south tip of India. I grew up as the eldest child in the family with my younger brother. My brother was born with a heart defect, and the doctors determined that there was no cure. He was under the constant watch of my parents; nevertheless, no one could tell he was sick. We as a family moved around the country every few years thanks to my dad's job.  It was exciting to be exposed to new people and new cultures. Although moving was tough, we as kids loved it.
Life in the working world
After high school, during college, I started working as a full-time journalist for the National English Newspaper in Sri Lanka. The experiences I gained through constant traveling as a kid helped me immensely, and if you couldn't guess, I was a feature writer for the travel section. Then after college, my parents thought it would be best for me to become a teacher. The teachers in Sri Lanka work six hours a day, and they also have three months off. When you become a mom, this becomes a big plus. Also, both my mom and grandma happened to be teachers. So, I became a high school math teacher. The plan was to grow old and retire as a teacher.
A new chapter
In 2011, I got married to my high school sweetheart, and my life turned upside down. Being married to him, has been the best thing thats ever happened to me. He worked as a Software Engineer for a Sri Lankan company. I thought, now finally I get to live in one place for the rest of my life. I was very wrong! A month after our wedding, his company sent us to the USA for a three month project in Columbus, OH.  The best part is, five years later that project is still not over. The move was a challenge for me. Although it was exciting to be in a different country, it was the first time I was away from my family, and unemployed. To make matters worse, we were in a hotel room for the first three months. It was a struggle. I fought with depression few times. But, we made it. We rented an apartment and furnished it as we pleased, then called it our home.
The permanent scar
In April 2013, just four days before my 28th birthday, my family called to tell me that my brother suddenly passed away. It was just a week after his 25th birthday. Although he grew up like a normal kid, the last five years of his life, he suffered from severe depression. He didn't have a quality life. But, he was our life and we were ready to do anything for him. His heart finally gave up, and we were helpless. After his death, my life fell apart. I never even got to say goodbye. My parents didn't want to keep his body more than 24 hours, and my flight was 30 hours. We did his last rituals on my 28th birthday. The next five months I spent with my parents, grieving. His loss changed my whole life and the way I look at things. He taught me to appreciate every moment I spend with my loved ones and nothing else matters at the end.
A new life
In September 2013, I got back home to my husband. My life wasn't the same anymore. Every moment I was alone, I would think about my brother, and there were instances I thought, dying would be much easier than going through this pain. I started going to the gym every day to take the mind off of all the things. I walked on the treadmill, but soon it became monotonous. I decided I should give running a try. I have to admit, I have never participated in any sports in school or college. I was the fat kid in my class (However, I lost a lot of that weight just before my wedding). So, when I first started running, I could only run 15 minutes before I felt like I was going to pass out.
I didn't know anything about training. But, naturally, I started to run/walk until I could run for a reasonable time. A few months later, I was able to run for an hour on the treadmill without stopping. Next step was to try running outside. I signed up for 5k and started training. On the first day I ran outside, 0.3 miles later I was dying, but kept on training.
Slowly I started to like running. If ever a run got tough, I would tell myself that my brother would be at the finish line to hug me and that feeling made me do anything. Now, three and half years later from my brother's death, I have completed three full marathons, five half marathons, and many other small races. On October 16th I'll be running marathon #4.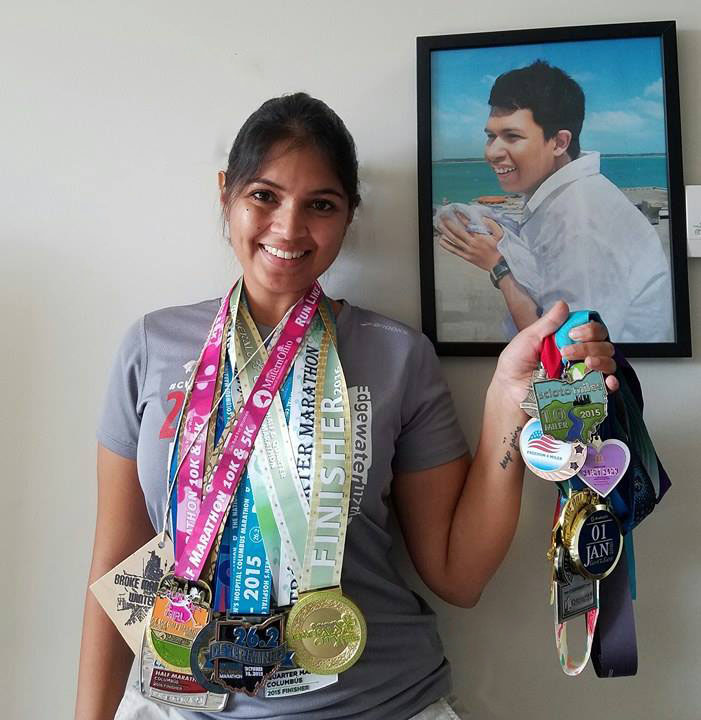 I still think about my brother a lot. His death made a permanent hole in my heart, but now I can talk about him without a meltdown. In my books, that's a victory!  Five years ago, if somebody had told these things would happen to me, I would have thought they were crazy. That's my story!