12 Apr

Meet: Emma Irwin

Posted at 19:43h

in

Adventure

,

Business

,

caregiving

,

Childhood

,

Columbus

,

Community

,

Education

,

Emotions

,

Giving Back

,

healing

,

Heath

,

meaningful

,

Mental Health

,

Mental Illness

,

motherhood

,

Non Profit

,

Organization

,

parenthood

,

Politics

,

reflection

,

Story

,

travel

,

Wellness

,

writing

0 Comments

Hello! My name is Emma and I have had quite the journey. I spent a year in the Dominican Republic and a month in Spain. I have taught English, tutored children in an orphanged and worked with woman coming out of sex slavery. I have experienced great times of depression and joy as I have searched for direction in my life. As time goes on, my desire to share my faith and the love God has for everyone in different and wonderful cultures around the world grows more and more. My next journey is to the Japanese Alps where I will spend a year teaching English and working in a lodge that reaches out to youth. Though I need to raise some support so that I can make it there.
I still don't know exactly what God has planned for me but I have learned to trust in Him and take life step by step.
In the Dominican Republic, I first worked at an all girls home of almost 50 girls. Some had no family or the family they had were not fit to take care of them. There is almost no adoption in the Dominican Republic and if you try to, the process is nearly impossible— so these girls really didn't have a future.  Pasitos(little footprints) the name of this home, provided a safe place for them. They got a bed, food and education. I tutored many girls in reading, math and English. There was one girl I deeply connected with Francia, she was 16 and I was trying to teach her simple math such as 2+3, which she greatly struggled with.
The second half of the year I worked with a safe house called Lily House. That is designed to help women out of human trafficking.  One girl I worked with was 18 and had 2 kids ages 6 and 4. Though, despite what she has been through, she is still today one of the strongest woman I have ever met. This safe house first covers the basics when a girl starts the program. They take care of any addictions and begin counseling for emotional issues. Then the girls begin to learn salon work, baking, jewelry making and business so that they do not need to return to working the streets.
Working with the women was so humbling. They have been through things that you could never imagine. Having a child at 12, being sold into sex slavery by your husband, putting youself into sex slavery to feed your own kids and yourself.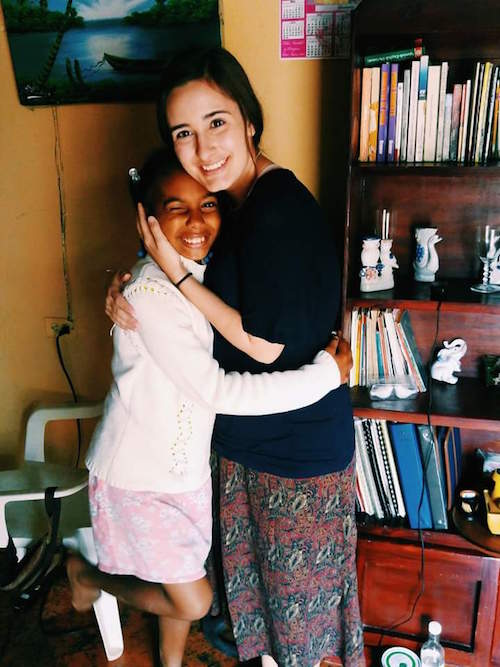 We had a new girl while I was working there and she was very unresponive. She didn't want to be there and she couldn't believe there was a God after what she had been through. She had so much pain in her heart, she became numb to it. There was a day where I got to share my testimony, why I believed in God. Though I have never been in as bad as a situation as her I simply talked about how God is the only one who can love perfectly and that even though I don't always understand why, we know how. That night, the new girl for the first time opened up about herself and we learned what her past was and why she was so broken. I can only hope that a seed of love was planted in her heart. That she can see that she is so so loved.
One of the most amazing experiences in the DR was the night my anxiety ( that I struggled with my whole life ) dispeared. Ever since I can remember I have consistently had nightmares, more often than not. I also struggled a lot with anxiety. I doubted everyone, I didn't believe anyone loved me. I saw so many flaws in myself. I barely slept, under my eyes were always dark and purple. I was a mess. One night in the DR, I was woken up by an especially bad nightmare.
I was shaking and crying but "lean not on your own understanding"- Proverbs 3:5  flashed though my head on repeat and I was immediately calmed. Since that day, I rarely have nightmares, my anxiety has extremely lessened and I sleep well most of the time. It was a miracle if you could believe in them.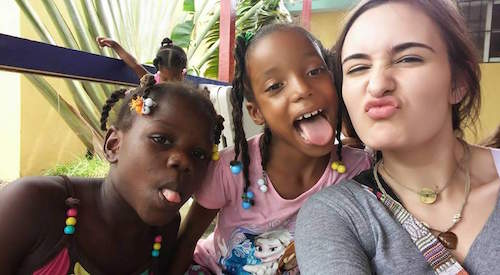 A few months ago I was applying for a job and I really felt like I was going to get it. Though, I had spent this one day thinking about Japan. The whole day I thought about how much I wanted to live there, even for a short while. That same day, my brother called me and asked if I would like to live in Japan for a year. Even if you don't believe in God, that is pretty amazing timing. I ended up not getting the job and more doors continued to open for Japan, so, to Japan I go!
Emma has created shirts to help fund her trip to Japan. Lets help get her there to make a bigger difference aboard.  The shirt is meant to show your support in good vibes.  Wear her shirt to symbolize that there are so many people in the world with there own stories.