04 Mar

Meet: A Carpenter's Son Design & Co.

Posted at 07:50h

in

Activities

,

Business

,

Columbus

,

columbus families

,

Community

,

Crafts

,

Family

,

Furnishing

,

Giving Back

,

handmade

,

Local

,

local business

,

meaningful

,

Meet the Business

,

Meet the Family

,

Outdoors

,

Story

0 Comments
A Carpenter's Son is an umbrella of local craftsman "salvaging a piece of Columbus' history one tree at a time and giving it a new life," states Josh, the Founder.
"The name actually came to me in the middle of the night." Growing up Josh was home schooled until the 9th grade, and during that time he witnessed firsthand his father's passion for carpentry (that he still practices today in Cleveland).
Josh's father was a self-employed entrepreneur— And home for Breakfast-Lunch-and Dinner most of the time. So, the name doesn't sound far-fetched—it's actually rather perfect. With Josh's early years in a home of carpentry, his educational background in engineering & construction, and then, a passion to raise funds to build a family… @a_carpenters_son was born.
More recently, Josh was able to leave his construction job to dedicate more time to this venture. His father comes down to Columbus regularly and recently helped with the upstairs mezzanine bartop project at the new @RockmillTavern location in the Brewery District.
They built the bar out of giant locally salvaged, Rock Maple Slabs of wood. They retained the live edge features of the slab giving the bar a one of a kind appearance while staying true to the character and legacy of the tree.
Part II: The Scheutzow Family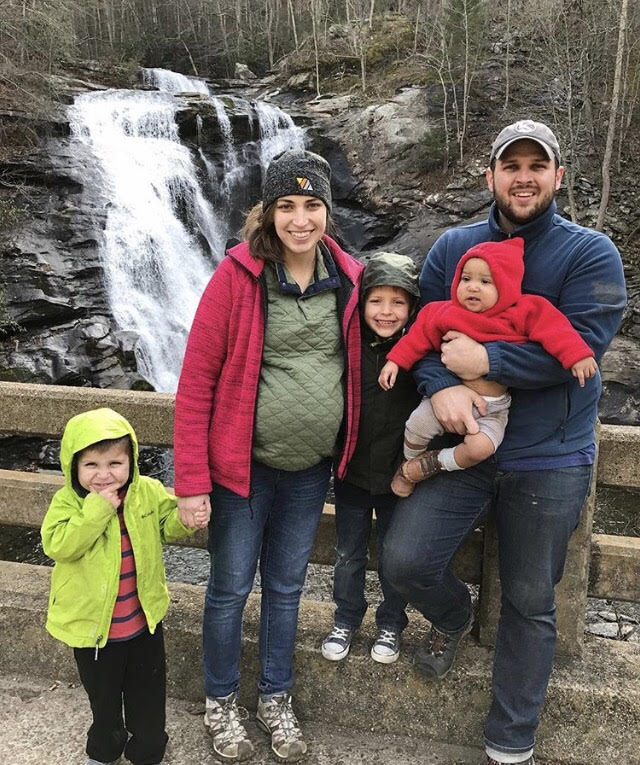 It all began back in Cleveland (specifically Olmsted Falls) where Josh met his high school sweetheart Laura. And like some high school romances, it turned into forever when they married at 20.  He knew what he wanted then, and that's why he later dropped out of nursing school from Capital University.
"Ultimately I was terrified to be successful at something I didn't care about."
And all along the way he was determined not to fail. But, it wasn't always easy. His son Lee (now 5 years old) was in and out of the hospital— and almost died.  His small intestines were twisted and had to be removed.  After undergoing 7 surgeries, it's clear that Lee was determined just like his dad. Determined to find a purpose. 
It began back in 2015 with an Instagram account and an Etsy shop to sell woodworking crafts and furniture to raise money for their upcoming domestic adoption.  They were blessed with their two biological sons, but were unable to get pregnant again. 
That struggle turned into a beautiful, redemptive story that led the Scheutzow's to begin the process of adopting through @choicenetwork.  They put their proceeds from sales towards the adoption and in September 2015 they were matched with a beautiful birth mother.  
Today, A Carpenters Son Design Co has dedicated its mission to helping other families in the adoption process. "We started with a purpose, but now we're filling a need." 
Part III: Adoption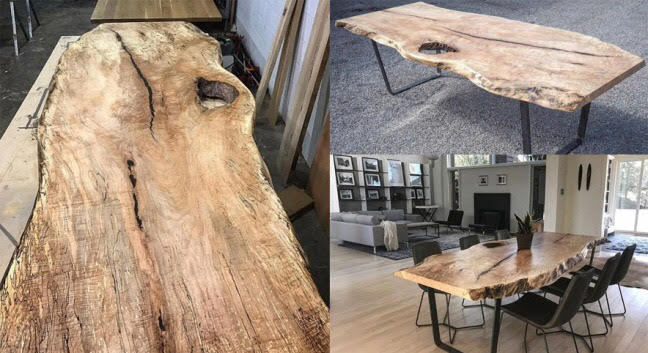 You got a glimpse into the Scheutzow family and how the adoption of their son became one of the cornerstones to their family story–but what you don't know–A Carpenter's Son Design Co expanded their purpose, their reach, and their products to help others in the adoption process.
Because everyone should be able to build a family, but due to the extensive adoption and legal fees, it carries quite an expensive cost.  So, on a regular basis they choose a sponsored family, where a portion of all their proceeds are donated to that particular chosen family raising money for an adoption.  With all the t-shirts profits and table sales they are truly able to play a huge role in helping families with their fundraising efforts.
Take this beautiful maple table for example–multiple hands built this masterpiece, but the grains of the table have a richer story.  I see years—the years couples spend trying to bring a child into the world, and the years of joy they finally get to spend with the help from companies like @a_carpenters_son and @choicenetwork.
If you (or someone you know) are currently trying to raise funds to adopt and would like to be the "Family of the Month" contact @a_carpenters_son. And, stay in touch through their Instagram feed to find out who the families are.  Bottom right photo: @joseasbury
Part IV: Exciting News
Josh and the ACS team have some pretty awesome community projects on the horizon with some of our favorite local businesses!  Partnering again with @rockmilltavern in the Brewery District to design & furnish their new patio space, re-designing a beloved Columbus coffee shop, building the new community table at a local marketing firm, and…. 
we are excited to announce here on @columbusstories first; their 

partnership with

 one of

 

Columbus' 

favorites, Joe Deloss and the team at @

hotchickentakeover! 

 

ACS designed and will be furnishing the new tables that will be used in the new Hot Chicken location in Clintonville!
Elizabeth and I are over the moon about this partnership, because really Josh & Joe together create this symbiotic powerhouse example of truly giving back to our Columbus community.  Both social entrepreneurs met back in their college days, but are continuing their friendship through a shared passion of helping those in need.  
While A Carpenter's Son Design Co. is dedicated to supporting domestic adoptions, Hot Chicken Takeover is creating supportive employment opportunities.  Could this relationship be more sublime?!  Okay but seriously–get those taste buds ready to enjoy some of the best chicken (hot chicken), on the most quality local craftsmanship, for an all-around meaningful meal that truly #givesback.