13 Feb

Dr. Saurer's Focus

Posted at 19:58h

in

blogging

,

Business

,

caregiving

,

Childhood

,

Columbus

,

columbus families

,

Community

,

death

,

experience

,

Family

,

Giving Back

,

healing

,

health

,

Local

,

local business

,

love

,

Marriage

,

meaningful

,

Meet the Business

,

motherhood

,

Practice

,

relationships

,

Story

0 Comments
Dr. Phing Saurer's story is one of focus, resilience, and loyalty. It's a story about overcoming and working hard.
Like all of us, Dr. Saurer's story begins with her parents. In this case, her parents' quest to America in search of opportunity.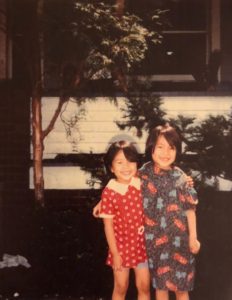 "My parents came to this country, leaving behind their entire family and everything they knew to give their kids a better life. They knew no one and barely spoke any English, but giving us a brighter future was the most important thing to them. I am in awe of their selflessness and sacrifices."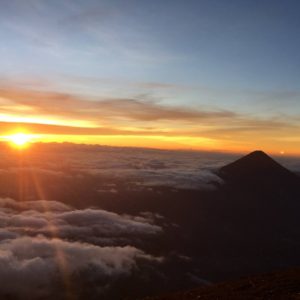 Dr. Saurer's parents faced many obvious challenges in their journey, but no hurdle was too great to jump.  They self-taught themselves English and worked diligently until they were able to open their own restaurant. And, you could find a young Dr. Saurer working there alongside her parents during the summers.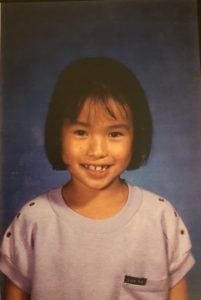 One particular summer stood out when a customer said, No one here knows how to speak English.  Dr. Saurer clearly replied, I think you have the wrong restaurant, because that is not our bag Sir. The individual left without any inclination of wrong-doing, leaving both Dr. Saurer feeling frustrated and her parents feeling hurt. But their message to their daughter was always, work hard and focus on your education.
"Being 1 of 6 minorities in an affluent town was not easy.  I was very sensitive and aware of how different we were and how little we had (materially) compared to other families. As an awkward teenager, I couldn't help but feel like an outsider.  I often hid behind my books to hide the isolation I felt."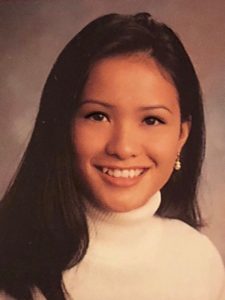 That's just what Dr. Saurer did.  Growing up in North Canton, Ohio she focused on her education while juggling 2-3 jobs at a time after school and on the weekends– ever since the age of fifteen.
Dr. Saurer moved to Columbus to attend The Ohio State University, where she earned a BS in Biology and Psychology, and a dual DDS/PhD degree in Oral Biology.  During her time there, she met the fathers of her children.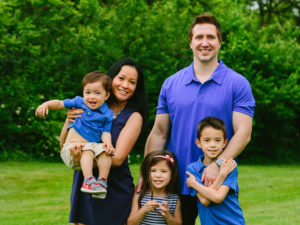 " When I was young I used to naively wish I had it easier like other kids I envied, but now as an adult, I am thankful for having loving, selfless, and forward thinking parents who pushed me to think for myself and to be independent.  In a way, it prepared me to take care of myself and my kids after my first husband passed away."
Dr. Saurer's first husband was killed in a terrible accident. He died two weeks before their  son turned 3, three months before their daughter turned 1, and one week before they were supposed to close on the house they had saved for. In an instant, Dr. Saurer became a young widow with two young kids to care for and a career that was just starting.
But the tragedy of the accident was also a lesson in life and love.
"When you lose a loved one unexpectedly in a terrible accident and your whole world seemingly falls apart right before your eyes, you wonder how you can possibly keep on living. But life keeps on going whether you want it to or not.  So, I had to make a choice on how I wanted to keep living.  It's not always easy and some days can be very difficult, but every day I still choose to live and to be thankful and happy." 
Dr. Saurer is devoted to living life fully in the moment and finding the good, even when terrible things happen. She always counts her blessings.  And because of that, her path lead her ultimately back to the love of her life. Timothy.
They were fated organically from the moment they met on Ohio State's campus in the Psychology building, Townshend Hall.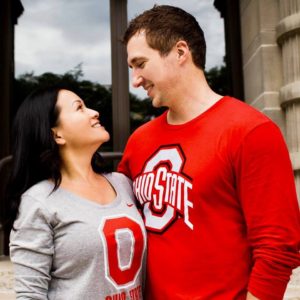 "I met my husband, Timothy, my last year of college. It was one of those rare moments in my life that I still remember very vividly (think "dream weaver" when I first laid eyes on him). He left for UNC to pursue his PhD in Neuroscience and I stayed for my DDS/PhD program. We were young and we were practical about our relationship coming to an end, but when he left I was still very much heart broken.  Simply put, Timothy is someone who is just unforgettable."
No one could have predicted that years later they would reunite over shared grief and later, fall in-love all over again. Once they reconnected, they married, and Timothy adopted her two kids and they welcomed a baby of their own.
"I think sometimes when people look at me, it's easy to make a lot of assumptions, because of where I am right now in my life. It's not lost on me that I am treated differently now compared to when I was growing up, because of my education and where I live.  But I know who I am and I know where I came from and all those material things really don't matter.  I don't want to be remembered for the things I own or have. What's important to me is being an honest, kind, compassionate, and generous person. Someone my kids will be proud of."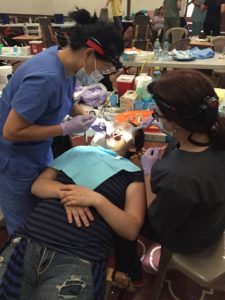 Nothing was handed to Dr. Saurer. She worked tirelessly to earn her education, and passionately to open her own dental practice.  And after all her hard work, River Park Dental finally opened its doors last month.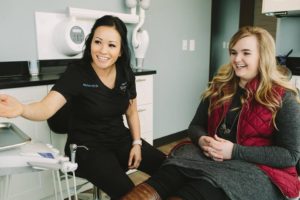 As a full-service dental practice, they provide a wide range of dental services in one convenient location with the highest standard of care and level of comfort.  But, it's more than what they offer.
"The office is not about having bragging rights among my peers.  It's about creating an environment where people feel safe. I'm focused on providing personalized patient care and comfort from start to finish.  I want to provide continuity of care.  When someone comes in, I want them to see familiar faces every time.  Not a revolving door of people. I want to build a friendship with my patients. I don't sell dentistry, rather I educate and give my professional advice, but my patients are always in charge. We help, but on their timeline. It is absolutely important for me to treat my patients as I would want my family to be treated."
For Dr. Saurer, her dental practice is a platform for building community, a space for giving back, and a safe place to help others who are struggling.
Dr. Saurer's story, like all of ours, is a backbone and blueprint to helping provide a brighter future for the generations to come. It's about being resilient among adversity, remaining focused when faced with discrimination, and loyal to those you care about.