10 Jun

Behind the Counter at Raising Cane's

Posted at 21:05h

in

Activities

,

Adventure

,

blogging

,

Business

,

Columbus

,

columbus food

,

Community

,

Education

,

experience

,

Family

,

Flavor

,

food

,

food scene

,

Fun

,

Giving Back

,

Local

,

local business

,

Meet the Business

,

reflection

,

Story

0 Comments

I was fortunate enough to have an amazing opportunity. I was able to go behind the scenes at Raising Cane's Hamilton location, where their G.M. Gaige McNutt graciously showed me around and gave me the "ins and outs" of this truly amazing company.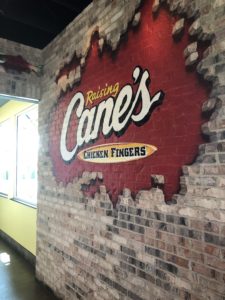 Everywhere you look and turn there are stories. Stories behind what's hanging on the walls.  Gaige decided to hang framed jerseys of all the schools in his area that they have partnered with in the past by donating their time, food or funds.  And the stories are meaningful. Intentional. And full of rich tradition. Take this hard hat here.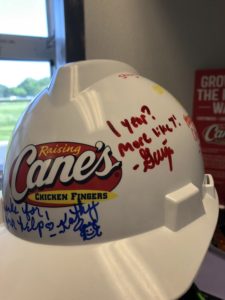 After working at Raising Cane's for 1 year you receive a hard hat that's signed by everyone on your crew, because as you've probably been reading, Raising Cane's has created a culture of family—"One Love," as they say. It's an inspirational community dedicated to "Raising" individuals to become their best.
My adventure started by walking around the outside of the building. Did you know that part of duties include making sure the parking lot is clean? And what would a customer see if they were going through the drive through? These small details we may not think about, but Raising Cane's makes sure to address each day.
I had the privilege of meeting individuals of Gaige's crew. I witnessed how they interacted with each other while working. And I have to say, it looked really fun. Everyone was upbeat, smiling, and having fun before even knowing who I was, or why I was there. Genuine enjoyment.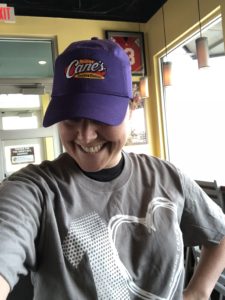 I learned a great deal, too.  I learned that they always cook-to-order and they don't use heat lamps, to ensure that their food is cooked fresh.
Have you ever been in a Raising Cane's cooler? It was chilly, but I was in awe—being surrounded by their famous sauce. Yes, that's made daily! Gaige explained how they mix the sauce in the morning and put them into their individual containers.  I got to see their chicken marinating.  I might not even be able to share with you everything I saw, because there were so many unique aspects to how their system runs.
Something I wanted to leave you with is kindness.  Raising Cane's really emulates a message of kindness into the world. And, I noticed that by this small example:
Gaige showed me a box of doughnuts and asked if I wanted one. I politely declined, but he shared that every day he brings in a special treat for his crew members, whether that's doughnuts, pizza, or something else to show his appreciation and care for everyone's hard work.  And, because he does that, his crew members pass on that same kindness.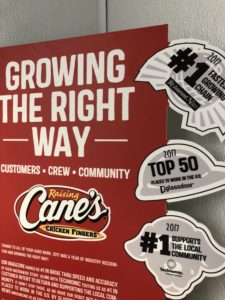 It's no wonder why Raising Cane's was rated one of the top 50 places to work in America. In America, not just in Ohio. That's HUGE guys.  And after spending a brief morning, getting just a small peak into life at Raising Cane's…I know full heartedly that it's true. So, if you're in the mood for some down right seriously good chicken, or a gig behind-the-counter—look no further than Raising Cane's Ohio!
One Love.